No albums list this artist in credits. You are able to edit albums and add credit info if you have created an account.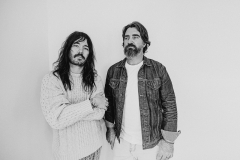 Land of Color
Land of Color started when two singer/songwriters, Gary Rea and Thomas Ewing, met in the mountains of Montana in 2015. Before the band began, they were both worship leaders and solo artists in their own right, but they felt like the Lord brought them together to create something unique and more significant than the sum of the parts. Gary was born and raised in South Africa, and Thomas is from Colorado. Their different cultural and musical backgrounds have resulted in a unique sound that is a blend of African rhythms, singable melodies, and tight harmonies.
Land of Color Bio. (2020) Retrieved: 6-Aug-2022. From Land of Color Music. https://www.landofcolormusic.com/bio
Websites:
External links are provided for reference purposes. Christian Music Archive is not responsible for the content of external internet sites.