No albums list this artist in credits. You are able to edit albums and add credit info if you have created an account.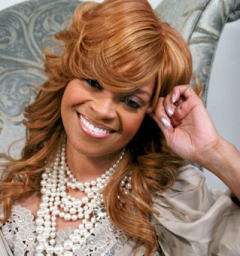 Karen Clark Sheard
Karen Clark-Sheard (born Karen Valencia Clark) is an American gospel four-time Grammy Award-winning singer, musician, and songwriter. The youngest daughter of pioneering gospel choral director Mattie Moss Clark, Sheard began her career as a member of the Grammy-Award winning, gospel legendary female group, The Clark Sisters. She is the mother of contemporary gospel singer and actress Kierra "Kiki" Sheard.
During the hiatus of the Clark Sisters, Sheard rose to fame after she recorded her critically acclaimed and much anticipated solo album Finally Karen, which spawned her hit, "Balm in Gilead" (a re-recording of a song she originally recorded as part of The Clark Sisters back in the 1980s for their Heart & Soul album) the R&B-flavored "Just For Me" and "Nothing Without You" - a contemporary duet with R&B diva Faith Evans. Finally, Karen became one of the most successful gospel albums of 1998 earning Sheard a Grammy nomination and earning her a Soul Train Lady of Soul Award for "Best Female Vocalist".
After her debut album success and much touring, Sheard was hospitalized in 2001 after one of her blood vessels burst during minor surgery, resulting in doctors giving her a 2% chance of survival. Her testimony inspired the title name for her long-awaited sophomore project, Second Chance released in 2002, featuring a "Secret Place" - which is now considered a classic amongst fans. Sheard recorded two more live albums, including The Heavens Are Telling and It's Not Over (which featured some studio recordings), before releasing All in One, Sheard's first all-studio-recorded album in 13 years. The album debuted at #3 on the U.S. Billboard Gospel Chart and #98 on Billboard's Top 200 albums chart, while its first single "Prayed Up" has so far peaked at #10 on the U.S. Billboard Gospel Songs chart.
In addition to her singing career, Karen is also an actress, appearing in the 2010 movie Blessed & Cursed as well as numerous stage plays. Sheard is in talks to play Kitty Parham (a member of The Famous Ward Singers) in Aretha Franklin's upcoming biopic.
On June 16, 1984, Karen Clark wed John Drew Sheard, a minister. Her husband is the senior pastor of Greater Emmanuel Institutional Church of God in Christ in Detroit. Together they have 2 children: Kierra (1987), who is also a gospel recording artist, and John Drew Sheard II (1989), a young musician and up-and-coming producer. Kiki is also a gospel recording artist, with four albums, plus various projects to her credit. Karen is also the Grandmother to J. Drew's son Jacob Dillon Sheard and daughter Kali Drew Sheard.
Karen Clark Sheard. (2015, June 14). In Wikipedia, The Free Encyclopedia. Retrieved 12:41, July 19, 2015, from https://en.wikipedia.org/w/index.php?title=Karen_Clark_Sheard&oldid=666859441
Websites:
External links are provided for reference purposes. Christian Music Archive is not responsible for the content of external internet sites.