No albums list this artist in credits. You are able to edit albums and add credit info if you have created an account.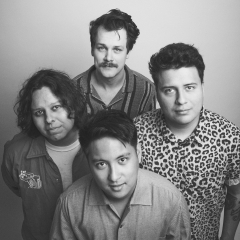 Gable Price and Friends
Gable Price and Friends is a rock and roll band composed of a few friends with a whole lot of damage to do. They are known for their high-energy music that makes you get speeding tickets, lyricism that simultaneously cuts you and comforts you, and their ability to provide a euphoric live show experience. Gable Price and Friends are just getting started.
Halfway between Sacramento, and the Oregon Border, Gable Price and Friends formed in 2018 in a small town called Redding (Now known as "Redding: the home of the boyyyys"). Bored and feeling stuck during his first year of school, frontman Gable Price asked guitarist Adam Elizararraz and drummer Daniel Vargas to join him in making a four-song EP they demo'd in his 1977 Camper van: "The Dreamboat." They crowd-funded an astonishing $1000 and wildly underpaid some friends, and Gable Price and Friends was born. In the Summer of 2019, GP&F added guitarist Cameron Pablo to the band and began making their debut full-length album, Fractioned Heart. Met with an overwhelmingly positive response, the boys hit the ground running even more. Gable Price and Friends released their latest EP, If I'm Being Honest, in the fall of 2021, featuring the hit song "I Need You" and fan-favorite "50 MG," this has been their best-received release to date.
The Boys are gearing up for the creation of their next album and getting ready to hit the road. So keep your eyes peeled, and remember to be a good friend.
Merge PR. (1-Jul-2022) Gable Price & Friends Joins Capitol Christian Music Group [Press Release]
Websites:
External links are provided for reference purposes. Christian Music Archive is not responsible for the content of external internet sites.