No albums list this artist in credits. You are able to edit albums and add credit info if you have created an account.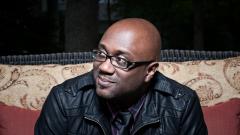 Drew Brown
There is a deep story woven into the lyrics and melodies of this award-winning Canadian Singer-Songwriter and Producer. Influenced by styles of pop, soul, indie, folk, electro, and hard rock - the self-produced and 2015 Juno nominated album "Analog Love in Digital Times" takes you on an honest and adventurous ride through stories of love and all of its complications. His 2017 EP "Homecoming" (which includes the new single "Where the Heart Is" as well as b-sides and songs recorded live on tour) continues the movement into deeper soundscapes and storytelling. He has crafted an instantly recognizable sound that is familiar and comfortable, yet all his own.
The first thing you notice when listening to Drew (on the album or in a live setting), is that he has a very rich, powerful, and original voice. His songs slide effortlessly from soft introspective folk to soaring rock choruses, while retaining strong pop sensibilities. Deeper listens reveal raw, candid lyrics toying with hunger, disillusionment, relationship struggles, and the pains of his past, exorcising them in the process. But in his voice…. you hear hope… and it's contagious.
His live show stands out above the noise, offering an emotively engaging twist on the singer/songwriter genre. Again.. blending folk and soul into a sonic package... Drew Brown's music and the live show is revealing a story waiting to be told and aching to be heard. His heart for connecting with people through music is evident from the moment you meet him. No matter the venue, audience, or song - connecting people to hope and love, bringing them into a space of wonder and gratitude through music and story…. is at the heart of what he does.
Drew also has a heart for pouring into other artists and musicians. And to help with that.. he started the Personic Creative Collective to be a hub for creatives to grow, learn, and be resourced. Offering production, photography, and a community/support system to assist in launching their projects.
About DB. (n.d.). Retrieved August 13, 2020, from Drew Brown website: http://www.drewbrownmusic.com/
Websites:
External links are provided for reference purposes. Christian Music Archive is not responsible for the content of external internet sites.