No albums list this artist in credits. You are able to edit albums and add credit info if you have created an account.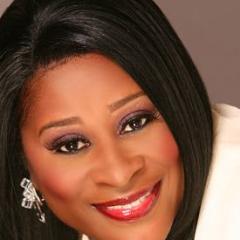 Dottie Peoples
Gospel vocalist, songwriter, producer, tour director, businesswoman, and spokesperson Dottie Peoples has been a star in the gospel music industry for more than 30 years, since she was nine years old. Called the Songbird of the South by Atlanta WAOK radio announcer Brother Esmond Patterson, Peoples won the top four honors at the 1995 Stellar Awards with her album, On Time God. Since then she has perpetually won or been nominated for many awards.
The firstborn of ten children, and the only singer in the family, Peoples was born in Dayton, Ohio. Her father worked two jobs, one at General Motors, to support the large family. According to Richard Gincel of the Atlanta Constitution, Peoples well remembers walking a mile to school in snow up to our heads because her family could not afford bus fare.
During her summer vacations, Peoples would stay with her grandmother in Birmingham, Alabama and would attend church with her all day on Sundays. The singers fascinated Peoples. She pictured herself as another Mahalia Jackson and went on to sing in her church choir and her high school concert choir. After high school, she toured briefly with gospel singer Dorothy Norwood and then with Shirley Caesar. Peoples' mother did not want her daughter to go on tour.
Started With Jazz
Despite her mother's objections about touring, Groove Holmes gave Peoples the opportunity to join his ensemble and for five years she performed in jazz clubs. When she married, Peoples stopped performing, but she could not stay away from singing. Not only did she want to serve God with song, Peoples had the voice to inspire. In fact, with a vocal range of soprano to alto to tenor, she has been compared to Patti LaBelle. The Philadelphia Tribune called Peoples a ``vocal powerhouse. But singing was not the most important thing in her life. She told writer Jimmy Stewart, "I love singing, but it's my personal relationship with Jesus that inspires me to do it."
In the seventies, while working at Salem Baptist Church in Atlanta, Peoples persuaded Reverend Doctor Jasper Williams, Jr. to start Church Door Records. Peoples became the general manager. The record label produced albums for the pastor and the church choir, and later, in 1984, Peoples's first solo effort, Surely God Is Able. In 1987, People's Is It Worth It All nourished the spiritual world on the same label. Two other albums followed.
Exploded in the Nineties
Gospel music exploded in the nineties. In 1990, The Dottie Peoples' Showcase on radio station WAOK of Atlanta helped this explosion. In 1991, a year after Peoples started hosting, directing, and producing the show, she signed with Atlanta International Records. In 1993 her album, Live at Salem Baptist Church, garnered her a Stellar Award nomination for Best Female Solo Performance of traditional music. More nominations--for the Gospel Excellence Awards, Soul Train Lady of Soul Awards, and Dove awards--would follow with other albums. Peoples's success with her Live album allowed her to leave her position with Church Door Records and sing full-time.
Peoples's 1995 album, On Time God, would change her role in gospel music. At the Stellar Awards, she won Female Vocalist of the Year for traditional music, Choir of the Year for traditional music, Album of the Year, and Song of the Year for On Time God. That same year, Peoples would receive a Vision Award by Bobby Jones Gospel of Black Entertainment Television and Gospel Today Magazine. ``On Time God would also win the Atlanta Gospel Choice Award for Song of the Year.
Throughout the nineties, Peoples toured with many gospel artists, among them Shirley Caesar, Kirk Franklin, and the Jasper Williams Crusade for Christ Ministry. Her vocals have also been featured on many other albums, such as the Women of Worship '98 album.
Once described as ``single, saved, and successful, Peoples continues to win awards and inspire. She not only sings, but writes many of her songs, such as On Time God and Testify from her 1996 album of the same name. Testify won numerous nominations for awards. In 1999, God Can and God Will: Live In Atlanta became her ninth album. She sang songs from the new release to an audience of 4,500 at the New Birth Missionary Baptist Church in Decatur, Georgia. An inspiring 225-member choir backed her performance.
Considered a Leader
Besides writing and singing gospel music, Peoples tours with a five-piece band consisting of guitar, keyboards, bass, synthesizer, and drums. She produces her own music, plus that of Reverend Dreyfus Smith, her pastor, and The Wings Of Faith Mass Choir, her home church. Peoples also produces the music for Reverend Andrew Cheairs and The Songbirds of Byhalia, Mississippi.
Though considered a traditional singer, Peoples appeals to all ages by incorporating contemporary songs and styles, such as rap, with her concerts. Her dynamic personality and faith keep her connected to others. Another way Peoples connects is through her business acumen. Though her heart remains with gospel music, she has allowed herself to branch out, first as a spokesperson for Lustrasilk, a hair product of the Gillette company, and then as a spokesperson for a southern women's clothing store, Colbert's. She can be seen and heard in television commercials. She has sung the National Anthem at the Atlanta Hawks baseball games and at the Centennial Summer Olympics. Also, in 1996, Peoples performed with Harry's Jazz Symphony and the Atlanta Symphony Orchestra, the first time a gospel singer had been featured.
Already considered a leader among the future's female gospel greats, Peoples maintains, Gospel has to change a bit for the new generation because young people need gospel, need to hear a word from the Lord, now more than ever. By the time I leave the stage, I want to have an impact on somebody's life. In 1997, Peoples won the James Cleveland Lifetime Achievement Award. That award emphasized that Peoples has made an impact on the world and will continue to do so as she sings in the twenty-first century.
About Dottie Peoples. (n.d.). Retrieved October 15, 2012, from Google Plus website: https://plus.google.com/u/0/b/103888606941354663756/106990825008866785552/about
Websites:
External links are provided for reference purposes. Christian Music Archive is not responsible for the content of external internet sites.