No albums list this artist in credits. You are able to edit albums and add credit info if you have created an account.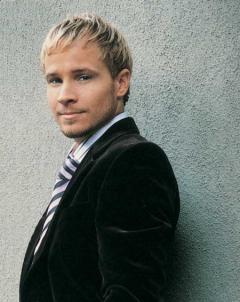 Brian Littrell
Brian Thomas Littrell is an American singer-songwriter and occasional actor, best known as a member of the Backstreet Boys. He is also a contemporary Christian recording artist and released a solo album, Welcome Home, in 2006. Brian has 4 Top 20 solo singles in the US Christian chart.
Littrell was also a judge for the 8th annual Independent Music Awards to support independent artists' careers.
Brian Littrell was born in Lexington, Kentucky, United States. He has an older brother and is the cousin of fellow Backstreet Boys member Kevin Richardson. He first started to sing in the choir of his Lexington Baptist church. Music was always important to him, and he originally planned on entering school to become a music minister. While a senior in high school, Littrell changed plans and accepted the offer to join what became the very successful vocal harmony group, the Backstreet Boys.
Backstreet Boys
Brian's cousin Kevin Richardson called on him to join the Backstreet Boys. After the joining of Brian Littrell, the quintet officially took shape. In the beginning, there was no success in the United States, even though the first single had been a hit on Orlando radio stations. The band manager Lou Pearlman marketed the Backstreet Boys in Europe, where they became commercially successful in 1995. They became hugely popular in Europe, Latin America, and the United States in the late 1990s and the early 2000s.
Career in Christian music
A faithful Christian, Littrell has stated that he believes it is the duty of Christians to be open about their faith, saying, "I think as Christians we need to join hands and mount up together and lift God up and talk about our faith publicly and talk about all of the things God has done for us in our lives to touch other people." Littrell, who has been a born again Christian since age 8 has said that he attributes his success in life to God and that his faith has always been "the utmost important thing" in his life.
Littrell decided to make a Christian album and become a contemporary Christian singer while maintaining his duties as a member of the Backstreet Boys. In the summer of 2005 Brian's solo single "In Christ Alone" went to No. 1 on the Christian Charts on July 4 and Littrell was the winner of the 2006 GMA Music Award for Inspirational Recorded Song of the Year, "In Christ Alone," which won both the 1993 award in this category and the 1994 Song of the Year at the GMA Music Awards.
Brian's first solo album, Welcome Home was released on May 2, 2006, which like the Backstreet Boys projects, is a Sony BMG release. The album peaked at No. 74 on the Billboard 200 and No. 3 on the Christian charts, and has currently sold over 100,000 copies. Three singles were released from the album. The first single "Welcome Home (You)" reached No. 2 on the US Christian Charts and No. 1 on Reach FM's Top 40 chart and the R&R Christian Inspirational Chart staying there for 3 weeks. The second single from the album was "Wish" and in 2007 the third single "Over My Head" was released.
Brian Littrell. (2013, March 25). In Wikipedia, The Free Encyclopedia. Retrieved 19:57, March 27, 2013, from http://en.wikipedia.org/w/index.php?title=Brian_Littrell&oldid=546943078
Websites:
External links are provided for reference purposes. Christian Music Archive is not responsible for the content of external internet sites.