No albums list this artist in credits. You are able to edit albums and add credit info if you have created an account.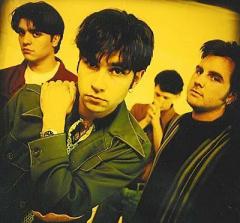 Age of Faith
Age of Faith was formed in 1987 by Jimi Ray and Rick Harwell. The duo and sometimes band released two nationally released recordings under the Benson Music Group label, toured constantly until parting ways in 1994. In 1996 Jimi re-formed the band with Steve Blair and David Buchanan and signed a record deal with Gray Dot out of Atlanta. Gray Dot was responsible for launching Christian music mega band Third Day. AOF recorded 3 nationally released CD's with Gray Dot, toured 180 days a year and played with some of Christian musics biggest artists. Their first CD under their new label produced the #1 radio hit "The Love of Jesus". They also found chart success with "Red Carpet" and a #5 video for "Walk In My Shoes". The band would also embark on a tour along with Bill Scott, radio host of the nationally syndicated show "Z-Jam". Each night of the 2 year tour would see large crowds and prove to be one of the most successful ventures for the band.
Age of Faith recorded their last studio project called "Still..Songs of Restoration", in 1999. "Still" showcased the band's musical side apart from the acoustic rock driven flavors of their former recordings. This was their worship record. While not a church oreinted worship record, many of the songs were vertical in the lyrical content. It also showcased Dove award winners and Grammy nominated group "Selah" as background vocalists.
In 2000 AOF played its last concert. Each member felt like AOF had run it's course and was now time to move on to other things. Since then there have been discussions on occassion from each member about the possibility of a reunion of concert dates and possibly a new recording.
 
Where are they Now:
Jimi Ray--lead vocals/guitar--currently doing solo material as well as gearing up to release his first book "I Wish It Would Rain" in early 2014.  He also is a worship leader at Venture Church near Charlotte NC.  He is married to Angie and has 2 sons.  Check out his website at www.jimiray.com.
Steve Blair--Steve is currently vice-president of sales for EMI Christian Music Group in Nashville.  He is husband to Kim and father to 3 kids, 2 boys and a girl.
Dave Buchanan-Dave currently is self-employed and still playing guitar for various artists.  He is married to Nikki and has 2 small children, a boy and a girl.