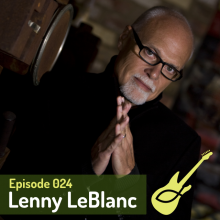 Today I'm privileged to chat with Lenny LeBlanc. Lenny got his start in music back in the 70s and had a couple of Top 40 mainstream hits. He went on to write a number of worship songs like "There Is None Like You" and "Above All," for which he won a Dove Award in 2003. In addition to more than a dozen solo albums, he has been a bass player and studio musician working with the likes of Amy Grant, Ricky Skaggs, Don Moen, and Twila Paris.
Lenny LeBlanc: Website, Facebook, Instagram, and Twitter.
And of course on our page: Christian Music Archive.
Christian Music Archive Links: Website, Patreon, Facebook, Instagram, Twitter, YouTube