February 27, 2014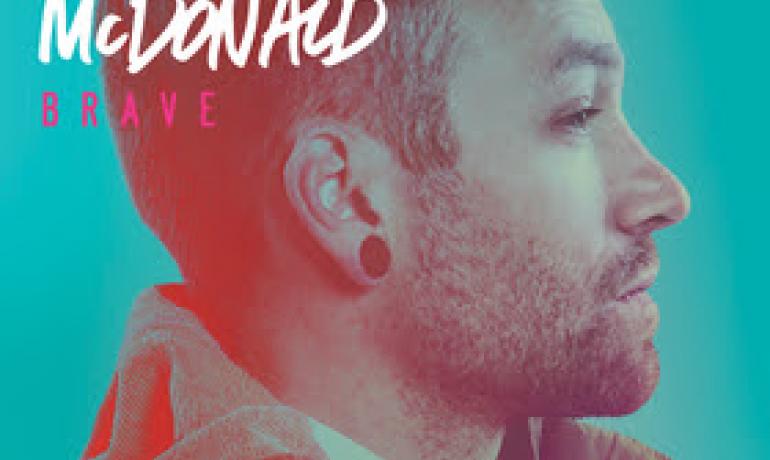 Franklin, Tenn - Sparrow Records announces the release of Shawn McDonald's latest LP, Brave, his latest collection of brand new songs in three years. As the follow up to 2013's unique live-to-tape re-recorded collection, The Analog Sessions, Brave takes this critically revered singer, songwriter and storyteller to a whole new level and pushing him beyond his comfort zone. Brave releases April 15.
In creating this album, McDonald took a different approach compared to his past projects. "I've been a singer/songwriter for close to 16 years now and have seen so many elements progress within my music," he shares. "I may have started with just an acoustic guitar and some simple stories, but I've since sought to create art with meaning, messages, thought and depth. This record feels like the deepest I've ever dived in that direction, all while adding considerably to my sound, which is why I called the record Brave. I feel like I'm making art with the same intentions, but there is definitely an increasingly noticeable electronic element on top of the acoustic foundation."
Shawn McDonald may have redefined his approach to making music, but these songs are still very much who he is as an artist to the core. With producers Chris Stevens (TobyMac, Carrie Underwood, Colton Dixon), Jamie Kenney (Marc Broussard, Erin McCarley) and David Garcia (Group 1 Crew, Britt Nicole), Brave is sure to appeal to his long-time fans as well as listeners of modern rockers like OneRepublic and Imagine Dragons.
"As an artist, I like to listen to everything out there so I can be aware and aways stretch myself. I have been listening to a lot more upbeat music, which goes hand in hand with my season of life. I've gone through so many years of battling demons, self-discovery, finding myself and coming out stronger in my faith, which has brought me to this season of joyous excitement and energy." 
The first single, the anthemic "We Are Brave," showcases that very message. McDonald explains, "In the past, I've always been a very timid soul and have often been afraid of being judged, which has probably caused me to miss out of a lot of things in life. Remembering that phase of my life, about feeling like I don't fit in, I realized there are probably a lot of people out there who feel the exact same thing. We all feel inadequate at times and that's where the whole concept came into play. The song and album as a whole is about putting down our insecurities, fears, and how we think people are going to respond to us in favor of simply being brave." 
"We Are Brave" is already hitting big at radio. Almost every Hot AC station is playing the song, such as Air1 Network and WBVM in Tampa, and the single debuted on the top 25 on the Hot AC chart. A music video was also filmed for "We Are Brave," set to premiere in early April. 
"My goal is to never isolate anyone, but simply to meet people wherever they are at," McDonald sums up about the album. "I just want to show people a glimpse of the journey I'm on, complete with all of its imperfections and the wisdom I've learned along the way. I don't have any agenda other than to make meaningful music that comes passionately from my heart." 
In the case of Brave, McDonald just hopes that people will take the time to listen and hopefully the songs will inspire others in some way as we all continue to seek and grow.  
Shawn McDonald will be taking his new songs as well as some fan favorites on the road with his "We Are Brave Tour" this spring. Hitting markets such as Dallas, Minneapolis, Green Bay, Chicago and Nashville. Get the most updated tour schedule by clicking here.