October 02, 2012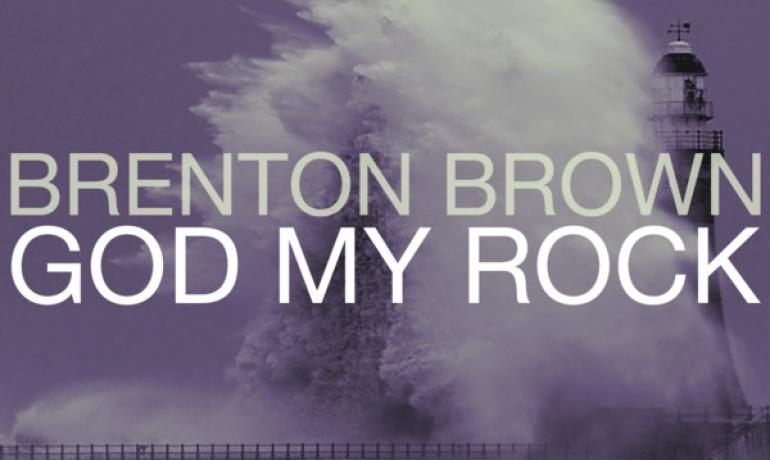 Renowned modern worship songwriter/artist Brenton Brown releases his fourth full-length album, God My Rock, today from Integrity, with distribution in North America by Provident Music Distribution. Brenton's first live solo record and first live worship project since the Vineyard UK's release of Come Now is the Time and its best-selling album Hungry, God My Rock is receiving wide critical acclaim.
The 14-track album features six brand new songs and new versions of many of Brenton's worship classics all recorded with his band, The Worship Republic (Daniel Ornellas - bass, Ben Showalter - drums and Scotty Murray - guitar), in Dayton, OH in front of 4,000 energized high school age students at a Dare2Share event. The songs on God My Rock came to life at this youth evangelistic mobilization organization event earlier this year and follows a two-year touring stint for Brenton and his band that started at Hume Lake Christian camps.
As the music begins reverberating around the globe, here is how the critics are already responding to the new offering from Brenton Brown and The Worship Republic:
"True musical art in the genre of worship is found in fresh accessibility…God My Rock keeps Brown's singular song-crafting approach at its heart, and the result is a subtly resplendent worship release that will be remembered as one of his finest offerings…Both fresh and deep, filled with revolutionary truths, captured with art and congregational skill, God My Rock is a must have for worship leaders." – Worship Leader
"Brenton Brown's driving rock mixed with Americana worship style along with his sincere vocal prowess and honest writing come through in fine fashion to create an enjoyable collection of worship." – Worship Musician
"God My Rock…is a wonderful mix of old, new, familiar and fresh. It's not uncommon to search an album for one, maybe two useable, songs for worship environments, but just about every single song on this album is a song that will be effective and accessible for gatherings by worship ministries everywhere. Worship leaders, we highly recommend this one!" – TheWorshipCommunity.com
"From reflective piano-focused songs to rock infused praise melodies, Brenton's vast display of musical and lyrical ingeniousness….Brenton's album is one of the standouts for worship enthusiasts in October 2012." – IndieVisionMusic.com
"This is a great collection of worship songs written by Brenton and recorded in a live setting, which I think is where we find Brenton at his best, leading people closer to God… if you're looking for a worship album to put on and spend time with the Lord, then you can't go wrong with this one." – LouderThanTheMusic.com
"God My Rock flowed effortlessly…The Worship Republic shine on this album with tight, effective and well thought out arrangements and musicality enhancing rhythms and melodies." – M-Brio Music
Leading up to the recording, longtime friends Brenton and Paul Baloche teamed up to pen the anthemic first radio single and title track from the album. Taking a queue from the famous hymn of old, "Great is Thy Faithfulness," the modern day expression in "God My Rock" points to the unshakeable truth of God's reliability. A compelling lyric video of this song that includes turbulent seafaring footage can be found at www.youtube.com/watch?v=C0b2GFdxuVk.
A South African-raised Rhodes scholar who studied at Oxford University, was worship pastor in England's Vineyard Church and now resides in Malibu, CA, Brenton Brown is one of today's most prolific writers of modern worship with nine CCLI Top 500 songs that are being sung by millions in churches all around the world. Forty-eight chord charts and lyrics to his most requested songs are available for free at www.brentonbrown.com/songs.html, including "Everlasting God," which was honored by ASCAP as one of the most performed songs in the USA in 2007 across all genres, marking the first time that a worship song has been recognized with such an honor.