March 15, 2013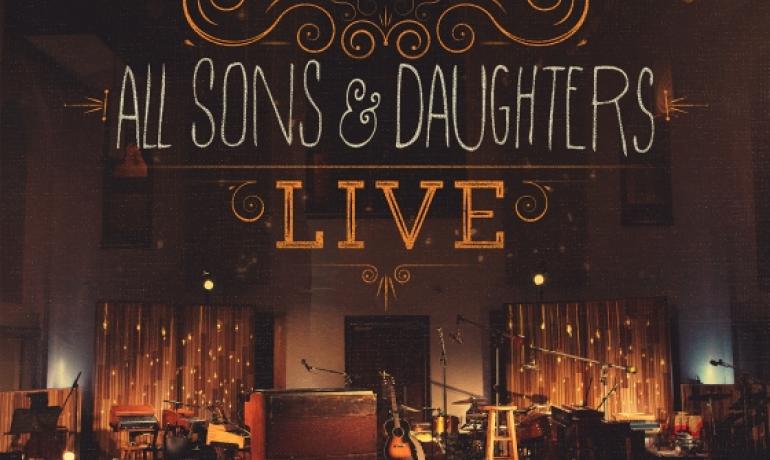 Following four critically acclaimed projects, the Franklin, TN-based worship duo All Sons & Daughters release its first live, full-length recording, LIVE, April 23 from Integrity Music. Recorded in the chapel at Oceanway Studios in Nashville, LIVE features members Leslie Jordan and David Leonard sharing their best-loved songs, such as "All The Poor and Powerless" and "Reason to Sing," as well as new songs, all delivered in a congregationally-friendly, organic worship setting.
As worship leaders at Franklin's The Journey Church, All Sons & Daughters see their music as an extension of their church. They are known for writing songs that focus squarely on Jesus while embracing the tension of the Christian walk. Leslie shares that on LIVE, like at their events, the duo strives to balance corporate and very personal, intimate moments of worship: "Our main goal is to create this space where people can come and engage with God, and we kind of get out of the way. There's a level of intentionality to everything we do. We really strive to make things as beautiful and appealing as we would want them to be."
"We're not trying to sway emotions," adds David, "We are really trying to tell a story and move people through a progression from brokenness to grace to finding freedom."
Debuting the new music for the first time, All Sons & Daughters LIVE will be featured at a DVD screening event to be held at the Franklin Theatre, April 8 at 7:00 pm CST. Everyone attending this ticketed event will receive a copy of the LIVE CD/DVD, while those not able to attend in person will be able to see it live as it happens at WorshipStream.com. The free stream will include a question and answer session with Leslie and David where they answer questions via Twitter (@allsanddmusic).
Releasing as a CD, DVD and an exclusive iTunes LP® that includes all the music and videos, plus bonus resources, an All Sons & Daughters LIVE trailer can be seen at http://bit.ly/ASDLtrailer.
The story of All Sons & Daughters begins in 2010 with artist David Leonard (Jackson Waters, NEEDTOBREATHE) wanting to spend less time traveling and more of it in real relationship with his local spiritual community at Journey Church. David connected with Leslie Jordan, part of the creative staff at the church, and the two began writing songs together, including the popular "All the Poor and Powerless."
Quickly realizing that they shared a similar style of leadership and desire to foster authentic connections in the church through a transparent form of worship, David and Leslie adopted the name All Sons & Daughters in reference to each other and the listeners who are vital to this active fellowship process. In addition to LIVE, the duo has recorded three EPs: Brokenness Aside, Reason to Sing and The Longing – and one album, Season One. Drawing comparisons to The Civil Wars and The Swell Season for their harmonies and organic instrumentation, the duo has been named Worship Leader Magazine's "most enchanting sound emerging in the worship genre." They were also recently featured on tours with Chris Tomlin and Kari Jobe.