No albums list this artist in credits. You are able to edit albums and add credit info if you have created an account.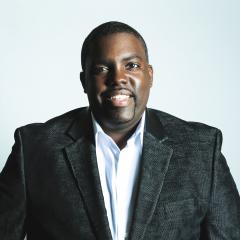 William McDowell
William David McDowell is an American gospel musician. McDowell was born in Cincinnati, Ohio as William David McDowell. His father, Lewis, and mother, Pauline (née, Leggette), were both born in North Carolina.
His music career got started in 2009, with the release of As We Worship which would be his Billboard breakthrough release because it charted on the Gospel Albums at No. 3, on the Independent Albums at No. 21, and on the Heatseekers Albums at No. 32. The second album, Arise, would chart on The Billboard 200 at No. 61, on the Gospel Albums at No. 1, and on the Independent Albums at No. 13. His third album, Withholding Nothing, was was nominated for Grammy Award for Best Gospel Album at the 57th Annual Grammy Awards. 
McDowell moved to Orlando, Florida in his twenties to attend Full Sail University, where he got his degree in Entertainment Business. He was mentored by Ron Kenoly when he was his Music Director. After college, his mentorship continued under the tutelage of Sam Hinn, while he was in the capacity of Worship Pastor at The Gathering Place Church. In May 2010, McDowell married LaTae McDowell, and together they reside outside of Orlando, Florida, with their children.
William currently serves as the Pastor at Deeper Fellowship Church in Orlando, Florida. As a Music Minister and worship leader, William has led worship over the last 10 years in multicultural settings that have crossed racial and denominational barriers, leading audiences large and small, both young and old into the experience of God's presence. He has ministered in churches and conferences all over the United States and in several countries across the globe as the Music Director and keyboardist for Dr. Ron Kenoly.
Wikipedia contributors. (2019, April 18). William McDowell (musician). In Wikipedia, The Free Encyclopedia. Retrieved 14:08, September 14, 2019, from https://en.wikipedia.org/w/index.php?title=William_McDowell_(musician)&oldid=892996476
Websites:
External links are provided for reference purposes. Christian Music Archive is not responsible for the content of external internet sites.