No albums list this artist in credits. You are able to edit albums and add credit info if you have created an account.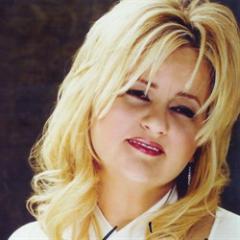 Vicki Yohe
Vicki was born in a minister's family, where she wrote and sang her first song at the age of 5. At the young age of 17, Vicki entered bible school, and after two years, at age of 19, she accepted a Music Director's position near Baton Rouge, LA., and it was during that time that Vicki recorded her first project, Vicki Yoh'e.
Soon after finishing that debut recording, ministry invitations increased to the point that Vicki sensed God was leading her down a new path of ministry. In 1994, Vicki entered into a recording agreement with the independent label, GIANT Records, where she released three projects that included such hits as: "The Mercy Seat", "Under The Blood," and "Something About My Praise."
After her season with GIANT, Vicki recorded two projects with Aluminum Records, which included her holiday release Christmas Presence and Beyond The Song. In 2002, she signed a new recording agreement with PureSprings Gospel, a CeCe Winans company. Her debut release under her new label, I Just Want You, included the hit "Because of Who You Are," which earned Vicki her first nomination for Gospel Music's Dove Award. In the fall of 2005, Vicki released He's Been Faithful, her second project with PureSprings Gospel, for which she was nominated for a Stellar Award. Vicki's first live project, Reveal Your Glory, was released June 30, 2009 on Shanachie record label. This project was recorded, April 18, 2009 at the Word of Faith Family Cathedral in Austell, GA.
Aside from the many services that Vicki ministers in every year, she makes time for missions work in her ministry. She has ministered in various parts of Africa, Europe and Asia. More importantly, Vicki Yohe Ministries has opened NEW DESTINY for CHILDREN an orphanage in Jinja, Uganda for children orphaned by the AIDS epidemic.
Vicki lives in Baton Rouge, LA with her husband Troy, toddler son Walker, infant son Adley, and nephew Houston. Offices for both Vicki Yohe Ministries and New Destiny for Children are maintained in Baton Rouge, LA.
Vicki has ministered in song along side some of today's well known pastors and evangelists, such as Bill Winston , Juanita Bynum , Benny Hinn , TD Jakes , Kenneth Copeland , Creflo Dollar , Darlene Bishop , and Paula White . Her own ministry brings a powerful message through song and the word to thousands of people around the world, during her over 150 concert services and numerous televison appearances every year.
Vicki's Bio. (2011). Retrieved October 4, 2011, from Vicki Yohe website: http://www.vickiyohe.org/bio.php
Websites:
External links are provided for reference purposes. Christian Music Archive is not responsible for the content of external internet sites.