No albums list this artist in credits. You are able to edit albums and add credit info if you have created an account.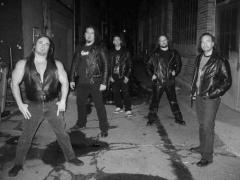 Ultimatum
Ultimatum was an unabashed Christian metal band with a sound in the same ballpark as '80s groups Iron Maiden or Megadeath. At a time when many former metal groups were developing into grunge or hard alternative acts and when many Christian composers were changing their focus to write songs about life in general, Ultimatum bucked the trends and played metal music that testifies to Christ without subtlety.
Lead singer Scott Waters told HM, "We love metal so we play metal, and we love Jesus, so we sing about him."
The group was founded by guitarist Robert Gutierrez in 1992. Their first full-length album, Symphonic Extremities, was originally a custom project, but it was re-released in 1997 by Juke Box Media with a bonus track ("World of Sin") that became its best known song. True to their name, Ultimatum has stressed the consequences of moral decisions in all of their material. Symphonic Extremities has songs dealing with suicide, abortion and participation in non-Christian religious cults. Puppets of Destruction includes "Never," about selling out one's integrity in order to be fashionable, "Gutterbox," about the degradation of modern TV, and "Repentance," describing the depravity of society as a whole. The Mechanics of Perilous Time includes a metal praise song called "The Purging" and a cover of the song "Burn" by Vengeance Rising.
Powell, M. A. (2003). Ultimatum. In Encyclopedia of Contemporary Christian Music (2nd ed., pp. 971-972). Peabody, MA: Hendrickson Publishers, Inc.
Websites:
External links are provided for reference purposes. Christian Music Archive is not responsible for the content of external internet sites.