No albums list this artist in credits. You are able to edit albums and add credit info if you have created an account.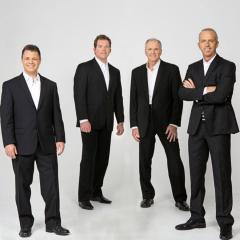 Triumphant Quartet
The one consistent thing about life is change. Things around us are constantly changing. So when a group like Triumphant Quartet maintains consistency, it speaks volumes about whom they are and what all they have accomplished. Triumphant is the face of quality Gospel Music, Christian integrity, family values, friendship, and dedication. The group has been that way since their beginnings in 2003, when the four friends first walked out on to the stage of the Louise Mandrell Theater, in Pigeon Forge, Tennessee as a headlining talent. Each current Triumphant group member was there in that defining moment and has continued together ever since. Their smooth harmonies and rich quartet sound quickly gained them national attention, recognition, and concert demand. That popularity promoted the group in 2008, from singing daily at the theater to touring nationally and performing in major concert venues, auditoriums, and churches. It has also voted them the Fan Favorite Quartet in the Gospel Music field for the last several years, and each group member also being nominated for and receiving various awards. Triumphant Quartet has had multiple #1 songs and several others have climbed the Top 40 music charts. They have multiple songs and albums of the year as well, which contributed to their popularity. In 2019 Triumphant received a Dove award for their album YES, voted southern Gospel Album of the Year. They feel very blessed. Gospel music fans agree that the triumphant sound is distinctive, solid quartet singing, voting them fan-favorite artist of the year for 2018 and 2019. Triumphant excels in diversity, and also expands their musical borders to a wide variety of styles, that is enjoyed by church audiences and music lovers. When Triumphant takes the stage, the audience is entertained by the musical variety, the engaging personalities, and a bond that is brought together by years of friendship. Audiences will find themselves smiling, laughing, crying, encouraged, and uplifted. And most of all, they will walk away having had the Gospel Message presented to them in a powerful way, with a hope that many will receive Christ as their Lord and Savior. Jesus Christ is the focus of Triumphant. He is the reason they sing. These four gentlemen are faithful as always and steadfast and true in their goal of giving their very best in all they do.
Triumphant Quartet. (2020). Triumphant Quartet. Their Incredible Story. https://triumphantquartet.com/about-1
Websites:
External links are provided for reference purposes. Christian Music Archive is not responsible for the content of external internet sites.