No albums list this artist in credits. You are able to edit albums and add credit info if you have created an account.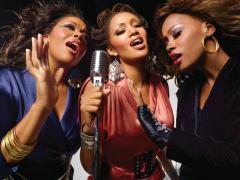 Trin-i-Tee 5:7
Trin-i-tee 5:7 was a breath of fresh air when they first appeared on the gospel scene in 1998. Hailing from New Orleans, the trio of stellar singers comprised of Chanelle Haynes, Angel Taylor and Adrian Anderson known as, Trin-i-tee 5:7, have steadily reached new levels of success with each empowering album release. The group's name was derived from the Biblical scripture of John 5:7, which defines the Trinity.
Trin-i-tee 5:7's journey began when the high school classmates formed a singing group. With determination, the group eventually caught the ear of Vicki Mack Lataillade, owner of the faith-based label, Gospocentric Records. Mack Lataillade immediately saw the group's potential to not only be credible gospel artists, but also their cross-over appeal to the mainstream urban world.
Indeed, in less than a decade Trin-i-tee 5:7 has become the best-selling trio in gospel music and have crossed music genre lines. The gifted recording artists made their mark in 1998 with a gold album debut and have since achieved award-winning results and critical accolades. Their fourth album, T57 debuted at #2 on the Billboard Top Gospel Album chart resulting in a GRAMMY® Award nomination and winning two prestigious Dove Awards for the group.
In 2011, Trin-i-tee 5:7 announced their transition from a trio to a duo. Chanelle Haynes and Angel Taylor continued as a duo and Adrian Anderson left to pursue other career opportunities. "The evolution of Trinitee 5:7 has come with many beautiful seasons, and great accomplishments," said Taylor and Haynes. "We've been tremendously blessed to have been given the opportunity to inspire so many through our music. A new season has come upon us, and we realize by embracing this change, the best is yet to come." Their sixth studio album, Angel and Chanelle, was released on May 31, 2011 and peaked at No. 1 on Billboard Gospel Albums, No. 2 on Billboard R&B/Hip Hop Albums, and No. 16 Billboard 200 charts, respectively.
In 2013, Trin-i-tee 5:7 disbanded and began recording solo albums. In late 2013, Chanel released her first solo single Believe. In February 2014, Angel released two singles: "Weak" and "Still God". In July 2014, Chanel released her first album Trin-i-tee 5:7: According to Chanel.
Websites:
External links are provided for reference purposes. Christian Music Archive is not responsible for the content of external internet sites.