No albums list this artist in credits. You are able to edit albums and add credit info if you have created an account.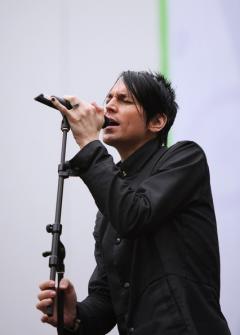 Tony Vincent
Born Anthony Peter Strascina, Tony Vincent is an American actor, singer, and songwriter born in Albuquerque, New Mexico, and based out of New York City, New York. He took the stage name Tony Vincent when preparing to release his first EP in 1993.
Vincent's professional career began while attending Belmont University in Nashville, TN. Using the school's recording studio, he recorded his first single, Love Falling Down. It was initially released to his hometown radio station, KLYT, in Albuquerque. The song proved popular. When it hit #1 on that station's charts, he and a college friend hastily organized a campaign to release the single nationally. The single was released nationwide in May 1993 and appeared for one week on the national CCM radio charts in July 1993, becoming the first independently released single ever to do so. After signing a recording contract with Star Song Records / EMI, Vincent spent six more years recording in Nashville. During that time, Vincent had six #1 songs on Billboard's radio charts, and his song One Deed, from the album of the same name, was featured in a United Way of America campaign.
In 1989, Vincent moved to New York, and by March had landed a role in the American touring production of Rent. Since then, he has been a cast member for several Broadway shows, including Jesus Christ Superstar, We Will Rock You, and American Idiot.
Vincent has released four solo albums: Love Falling Down (1993), Tony Vincent (1995), One Deed (1997), and a five-song EP entitled A Better Way (2007), a collaboration with platinum-selling producer Adam Anders and songwriter Nate Campany. In addition, Vincent has had six #1 songs on Billboard's CHR/CRR radio charts: Simple Things, Whole New Spin, Out of My Hands, High, Do You Really, and One Deed. He is currently working on a new project with his band, Mercer.
Tony Vincent was a contestant on the second season of the hit reality talent show The Voice. Cee-Lo Green was so impressed by Vincent's powerful (blind audition) performance of We Are The Champions that he snatched him up for his Team (TeamCeeLo) and commented that Freddie Mercury would have been proud. Vincent won his Battle Round against teammate Justin Hopkins singing Journey's "Faithfully."
Vincent sang Tears for Fears' "Everybody Wants to Rule the World" but received mixed reviews from the judges, who felt the song held back his true voice dynamic during the Live round. Vincent ended up in the Sing-Off of the Last Chance Performances, singing Eurythmics' "Sweet Dreams (Are Made of This)," but was eliminated from the competition.
Tony Vincent. (2011, May 12). In Wikipedia, The Free Encyclopedia. Retrieved 11:51, July 1, 2011, from http://en.wikipedia.org/w/index.php?title=Tony_Vincent&oldid=428825365
Websites:
External links are provided for reference purposes. Christian Music Archive is not responsible for the content of external internet sites.