No albums list this artist in credits. You are able to edit albums and add credit info if you have created an account.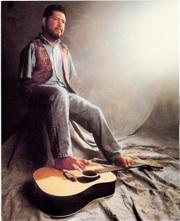 Tony Melendez
A thalidomide baby, Tony was born without arms because his mother was prescribed thalidomide a drug used to help calm morning sickness during her pregnancy. He was brought to the Los Angeles area from Nicaragua to be fitted with artificial arms. He wore them until he was ten, when he disposed of them. "I didn't feel comfortable," he explains, "I could use my feet so much more."
His proficiency with his feet is heard in his acoustic guitar-centered recordings, where Tony plays the guitar holding a pick between his toes.
He was already deeply involved in the Catholic Church when he was invited to play for the Pope in 1987.  As he sang his song, Never Be the Same, the Pope "leaped" off his four-foot stage to come and greet the surprised Tony with a kiss.
Since then Tony has traveled across the United States and forty foreign countries, making countless television appearances, including The Today Show, Good Morning America, Geraldo, CBS This Morning, The Late Show with Arsenio Hall, 700 Club, Robert Schuller, and prime-time network specials for Variety Clubs and Very Special Arts. He also performed at The World Series, where he sang the National Anthem for the fifth game of the 1989 series.  His best-selling autobiography, A Gift of Hope, was published in 1989 by Harper & Row.
Hi Song Ways of the Wise, from the album of the same name charted at #3 in the fall of 1990.
Where are they Now:
Currently, Tony resides in Branson Missouri, and still performs concerts.
Websites:
External links are provided for reference purposes. Christian Music Archive is not responsible for the content of external internet sites.