No albums list this artist in credits. You are able to edit albums and add credit info if you have created an account.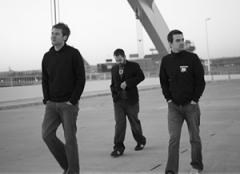 The Swift
The Swift was a contemporary Christian pop/rock band, originally formed in Rocky Mount, North Carolina in the late 1990s. In the early 1990s Britt Edwards, Jason Light, Dwayne Coppedge, and West Adams were singing in the band Christ Denomination (or CD Boys). At times the band invited such friends as Jason Brown (Sessoms) and Adam Stone to perform with them. This was one of the first Christian bands that Edwards would be in. Christ Denomination performed original songs as well as covers (DC Talk was a favorite). CD Boys split. Jason Light went on to be a sheriff's deputy, marry his sweetheart, Ginger, and have two children. He is presently doing sales and serving the Lord. Jason went on to start No Ticket, No Problem, a free concert that featured such artists as T-Bone, Christafari and The Swift.
While Christ Denomination was ending, Regeneration X was beginning in a local Baptist church with a few teens, Danny Daughtridge (vocals/bass/song writer), Mike Simons (drums) and Matt Wilder (lead guitarist). Regex, as they were known by locals, sounded like a teen garage band at the time. Jason Williams was free from any band obligations so he joined Regex as a rhythm guitarist to give them a fuller sound. Britt Edwards was asked to join the band after a party in the back yard of a mutual friend, Christ Turner. A great musical shift in the band occurred when Adam Stone was asked to join and play drums (also Animal played for a short while as well). This proved to be one of the greatest gifts to Mike Simons. He moved to percussion and expressed his giftedness in one of the meanest harmonica solos this side of Heaven. Over the next three years the 14 year old Simons would become an accomplished percussionist, bassist, guitarist and even, a banjo player. Regex took off in the local area and created a large fan base. As time progressed, Britt Edwards had always felt a calling and also was pursuing a solo ministry, which left Regex without a full-time front man.
Second Nature, was also in the making and put two Christ Denomination members back together. Dwayne Coppedge and West Adams created a Christian pop duo. With a lot of help and support from Britt Edwards, Second Nature recorded soundtracks to perform live on stage. In 1995, Second Nature traveled to Atlanta, Georgia to perform in the Atlanta-fest Artist Talent Competition where they won First Place. After AtlantaFest, Second Nature needed to expand their ministry, sound and stage presence, so with the help of John Wesley Linton, they began to expand their personal style. In a collaboration of talent, John Wesley Linton helped to open another opportunity for these young musicians. Together with, West Adams, Dwayne Coppedge, Matt Wilder, Mike Simons and Bo Faulkner "Zacchaeus Tree" was formed. John Wesley Linton of Greenville, NC promoted and managed the band as a mentor, financial advisor, band pastor, and friend under the name of Sunday School Hype. With original music, strong vocals and powerful guitar ballads the bands ministry grew quickly. Mike Simons and Matt Wilder were still in High School, however Zaccheus Tree allowed them the chance to perform not only on the local stage but on a much larger regional level. During the bands time together they ministered and performed all over the Southeast. The band was asked to open for several major Christian artists, which offered the hope of a record deal. However, with time conflicts and creative differences the band decided, together, to explore different musical avenues. Zacchaeus Tree ended in 1999. West Adams went on writing, singing and performing, focusing on country and pop. Dwayne Coppedge joined, The Anchorman (A popular Southern Gospel Group) and now is serving in a local church with his wife and two children.
With Daughtridge and Edwards bandless the two friends soon started meeting together and writing/recording music. Jason Williams would join them in their efforts at times. They called themselves "Puddleglum" after the C.S. Lewis character in The Chronicles of Narnia. Chris Byers replaced Jason Williams and Phillip Wall was brought in as a lead guitarist. Byers' college buddy, Trae Drose, became the permanent drummer around the same time. Danny Daughtridge left (and now performs as the Danny Daughtridge Trio) and was replaced by Wall's brother-in-law, Phil Sabella, who would later go on to form Oldmangrady with Lee Modlin and Joe Knowles. Mike Simons joined as percussionist and vocalist. Phillip Wall left to attend seminary and the band continued as a four-piece. As the band began to tour, it gained popularity which fueled the need for original music and a record label.
In 2002, the group was given the opportunity to sign on with Flicker Records and changed their name to The Swift. That same year the band released their self-titled album which produced two top ten Contemporary Christian hits: "Under The Sun" and "More Than Gold." Shortly after their album release, The Swift picked up touring dates opening up for the popular Christian band, Mercy Me. Early 2004 brought about a line-up change. Guitarist Chris Byers decided to leave the band and was replaced by Justin Sharbono (formerly of Superchic[k] fame). The Swift then released their second album entitled Today.
After only seven months with the band, guitarist Sharbono left the band to pursue other interests. In order to fill the void, the band decided to reach back into their hometown and added guitarist Matt Wilder (also from Zacchaeus Tree) to the roster in December 2004. Drummer Trae Drose announced his decision to leave the band in May 2006. He has been recently replaced by Guy Lemon.
In 2007, the band broke with Flicker Records and signed with Rocketown Records and released a softer, more contemplative album, Singing Back to You. At the Life Conference in Orlando, Florida the band announced that they were exploring other opportunities and the worship concert they gave would be the last performance of The Swift.
The Swift. (2014, March 20). In Wikipedia, The Free Encyclopedia. Retrieved 22:37, June 10, 2014, from http://en.wikipedia.org/w/index.php?title=The_Swift&oldid=600399637