No albums list this artist in credits. You are able to edit albums and add credit info if you have created an account.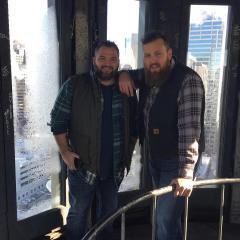 The Singing Contractors
It all began in 2015 when "The Singing Contractors" were on a job site and took a break to record themselves singing "How Great Thou Art".
After posting it on Facebook, they had over 15 million views in just a short time. Then during the Christmas season they posted another video while on the job called "Mary Did You Know" and had over 30 million views. Since that time the views have continued to increased until they now have over 100 million views combined.
It created such interest that the Fox News morning show "Fox and Friends" interviewed the guys along with a number of local TV stations in the Indianapolis area. In addition People Digital Magazine did an interview as well as WGN in Chicago. Other connections include Inside Edition and a number of contracting magazines.
Websites:
External links are provided for reference purposes. Christian Music Archive is not responsible for the content of external internet sites.