No albums list this artist in credits. You are able to edit albums and add credit info if you have created an account.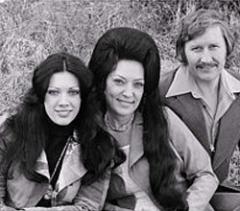 The Rambos
The Singing Rambos were one of the most successful southern gospel trios of the twentieth century. They released more than fifty albums as a group in addition to various solo projects. The core of the group consisted of husband and wife Buck and Dottie Rambo (nee Luttrell), and their style has been described as "a harmonic blend of Buck's country-style singing and Dottie's mountain-style black soul music."
The two came from poor, large families in rural Kentucky and married young, at the age of eighteen and sixteen. They first began recording as The Gospel Echoes (a trio that also included Pattie Carpenter) in 1964, later changing their name to The Rambos and eventually to The Singing Rambos.
For the most part, the group recorded only songs written by Dottie, and her compositional skills would provide their most enduring legacy. Often compared to Fanny Crosby, Dotty Rambo would write more than 2500 songs and ultimately be named Songwriter of the Century by the Country Gospel Music Association. Perhaps her best-known composition is the hymn "He Looked Beyond My Fault and Saw My Need."
Dottie Rambo was awarded the Dove Award for Songwriter of the Year in 1982 and a Grammy Award in 1968 for Best Soul Gospel Performance for her song "The Soul of Me." The group was inducted into the Gospel Music Association's Hall of Fame in 2001.
The Rambos are known for their three-part harmony. They sang what many called "inverted harmony," which in the music field was not proper or accepted because all groups were supposed to have a bass singer. It was not until they performed one night at the Ryman Auditorium with a group called the Sons of Song that they realized that they could have a successful group without the use of a bass singer. The group went on to become pioneers in the inverted style of singing.
The Singing Rambo's greatest contribution to contemporary Christian music would come by way of daughter Reba Rambo, who began recording with the group at the age of thirteen. She later embarked on a career as a solo artist and then recorded with her husband Dony McGuire.
Powell, M. A. (2003). The Singing Rambos. In Encyclopedia of Contemporary Christian Music (2nd ed., pp. 826). Peabody, MA: Hendrickson Publishers, Inc.
Where are they Now:
Richard Fay "Buck" Rambo, died February 21, 2016, in Palmetto, Florida, at the age of 84.
Reba had a successful solo career in contemporary Christian music, and went on to pastor The River At Music City with her husband, Dony McGuire in Nashville.
On May 11, 2008, Dottie Rambo died instantly as a result of a tour bus crash along Interstate 44 just outside Mount Vernon, Missouri.