No albums list this artist in credits. You are able to edit albums and add credit info if you have created an account.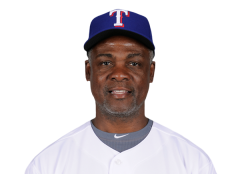 Thad Bosley
Thaddis Bosley Jr. is a former Major League Baseball outfielder for the California Angels (1977, 1988), Chicago White Sox (1978–1980), Milwaukee Brewers (1981), Seattle Mariners (1982), Chicago Cubs (1983–1986), Kansas City Royals (1987–1988) and Texas Rangers (1989–1990).
Bosley was a coach for the Oakland Athletics[2] from 1999 to 2002. During the 2008 and 2009 seasons Bosley served as an assistant coach and then as the head coach for the baseball team at the now defunct Bethany University in Scotts Valley, California. Bosley was announced on June 24, 2009, as the head coach at Southwestern College in Phoenix, Arizona. After one season at Southwestern, Bosley accepted the hitting coach vacancy for the most recent American League champion, the Texas Rangers on November 23, 2010.
Bosley was briefly a member of a funk group called Ballplayers which featured former Major League Baseball journeyman Lenny Randle. Some of their music can be heard on a compilation called "Family Album", which was released in 2010 on the DC-based music label, People's Potential Family.