No albums list this artist in credits. You are able to edit albums and add credit info if you have created an account.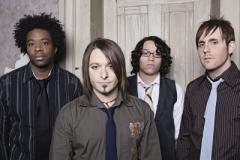 StorySide:B
StorySide:B was an American Christian rock band signed to Gotee Records. It was headed by guitarist and vocalist Lucio "Lu" Rubino. Rubino and drummer Jordan Mohilowski took first place in the band division of the 2003 "Exalting Him" talent contest, which aired on TBN. They went on to form a band with bassist and pianist Ron McClellan, with Matt Lande and Preston Pohl both on guitars. While they were playing their music for different labels, Gotee president Joey Elwood heard them play an acoustic set. A month later, they met Gotee founder tobyMac after one of his shows and played some music for him on his bus; they were signed soon afterwards. Μatt Lande later left the group and moved to Los Angeles to pursue his new project as lead vocalist for the group "Heaven Is Where."
On January 18, 2009, bassist Ron McClelland collapsed and died while playing basketball on the upper deck of the Carnival cruise ship Fascination. No members of his band were with him at the time of his death.
Preston Pohl appeared on the NBC show The Voice on September 30, 2013, impressing three of the judges. He eventually chose Adam Levine as his coach and made it to the live rounds. He did not win the contest.
Their 2005 debut album, Everything and More, placed on Billboard magazine's Top Heatseekers and Top Christian Albums charts. Their second album, We Are Not Alone, was released on June 19, 2007.
StorySide:B has also recorded a cover of "In the Light," by legendary Christian rock/pop group dc Talk, which appears on the compilation album Freaked!.
StorySide:B. (2014, August 31). In Wikipedia, The Free Encyclopedia. Retrieved 12:57, November 20, 2014, from http://en.wikipedia.org/w/index.php?title=StorySide:B&oldid=623617671