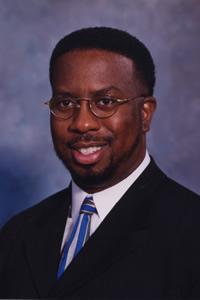 Stephen Wiley
Stephen Wiley (born 1956) is recognized as the first artist to have recorded a full-length Christian rap album with his 1985 release on the Brentwood Records label, Bible Break, a fact which was acknowledged by T-Bone (rapper) in his song "Our History" on his own album entitled GospelAlphaMegaFunkyBoogieDiscoMusic in 2002. At the time of this recording, Wiley was a member of the crusade team at Kenneth Hagin's Rhema Bible Church in Broken Arrow, OK.
Wiley was born in 1956 and grew up in Muskogee, Oklahoma. A University of Oklahoma graduate, Wiley began a career as a jazz drummer in 1979 and wrote a song called "Basketball". This tune would later go on to be recorded by mainstream rapper Kurtis Blow and become a #71 hit (in 1985). By 1982, Wiley was performing rap music with Christian lyrics at a time when Run DMC's breakthrough to the mainstream was still a year away. In 1984, Wiley took a job as chaplain at a juvenile detention center.
In 1985, Wiley released Bible Break and saw its title track reach the #14 spot in 1986 on Christian radio. That slap from the CCM world was balanced by a 1988 article in Spin magazine nicknaming the young chaplain the "Grand Master of Rap".
Wiley would later serve as assistant pastor/youth minister at the predominantly-black Crenshaw Christian Center in Los Angeles CA under televangelist Frederick K.C. Price. He then released two more albums for the StarSong label which were better received garnering a #13 hit with "Peace", a duet with Renee Garcia from the 1990 album Rhythm and Poetry and #14 "Attitude" from 1991's Rhapsody. The latter album sought to bring in fans of more traditional gospel by including harmonies from gospel group Witness on the song "Real".
Wiley is the Founder and Pastor of Praise Center Family Church in Muskogee, Oklahoma and Tulsa, Oklahoma. He is also the Assistant Vice President, Director of Christian Ministries, Assistant Professor of Religion, at Bacone College in Muskogee, Oklahoma where he teaches full time.
Stephen Wiley. (2012, June 8). In Wikipedia, The Free Encyclopedia. Retrieved 12:36, June 21, 2012, from http://en.wikipedia.org/w/index.php?title=Stephen_Wiley&oldid=496658631
Where are they Now:
Stephen and his wife Pamela are Founders and Pastors at the Praise Center Family Church in Muskogee and Tulsa Oklahoma. He is also the Assistant Vice President, Director of Christian Ministries, Assistant Professor of Religion, at Bacone College in Muskogee, Oklahoma where he teaches full time