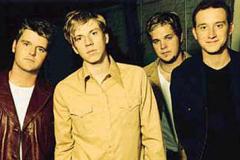 Seven Day Jesus
Seven Day Jesus (a.k.a. 7DJ or SDJ) was a Christian rock band formed in Huntington, West Virginia in 1994. The group disbanded in 1998, but they reunited for one concert in 2004.
Seven Day Jesus was formed by childhood friends, singer and guitarist Brian McSweeney, rhythm guitarist Chris Beaty, bassist Wes Simpkins, and drummer Matt Sumpter. They began as a cover band, but soon began writing their own music.
Looking to break-out, the band released several albums, before being signed by 5 Minute Walk, an indie label in California. After releasing the critically acclaimed album Hunger in 1996, they were signed to Forefront. In 1998, after a change in line-up, they released their eponymous album and changed their style significantly. The album spawned several hits, but the band quit recording soon after. The song, "Butterfly" was nominated for Rock Recorded Song of the Year at the 1999 Dove Music Awards, but lost to Jennifer Knapp's "UNDO ME" from the Gotee Records release Kansas.
They did reunite in 2004, however, and played at Bleach's final live performance. The band released a live album soon after. There is no further news as to the future of the band. The album features two sets of songs from live performances in 1996 and 1998. McSweeney and Sumpter now play in the rock band Matthew. Chris Beaty joined The O.C. Supertones in 2003 and played with them until they disbanded in 2005. He is currently a guitar technician for the rock band Switchfoot. Fox is now playing guitar in the rock band The Red Velvet and runs Huntington's Broadmoor Recording Studio. McSweeney toured with the Christian rock band Audio Adrenaline for their final shows.
Wikipedia contributors. Seven Day Jesus. Wikipedia, The Free Encyclopedia. September 8, 2010, 21:20 UTC. Available at: http://en.wikipedia.org/w/index.php?title=Seven_Day_Jesus&oldid=383714819. Accessed November 22, 2010.