No albums list this artist in credits. You are able to edit albums and add credit info if you have created an account.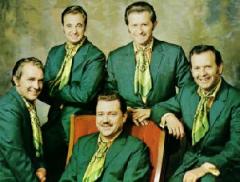 Plainsmen
In 1956, Howard Welborn (tenor), Jack Mainord (lead), Bill Randall (baritone), Joe B. Davis (bass), and Easmon Napier (pianist and emcee) parted ways with the Stamps organization and reorganized under a new name, the Plainsmen Quartet. A year later, Rusty Goodman joined the group to sing baritone. The Happy Goodmans were on a hiatus from full-time singing. When Ermon Bunch and Thurman Bunch joined the group, Rusty moved to bass. They sometimes joked that they had the highest bass singer in gospel music. After Ermon Bunch left, the group's original tenor, Howard Welborn, returned to sing baritone. At this point, the group had a bass who was capable of singing into the high baritone range and a baritone who had experience singing tenor.
The quartet went on the campaign trail with Governor Jimmie Davis in 1958. Later, the Plainsmen were featured on Johnny Horton's hit song "North to Alaska."
Rusty Goodman returned to the Happy Goodmans in 1963. Seals "Low Note" Hilton joined the group briefly, but was soon replaced by Jay Simmons at the bass position. Eddie Crook played piano for the Plainsmen when they were based on Baton Rouge, LA. For a while, several former members of the Plainsmen sang as the Marksmen, then returned to the Plainsmen. The group worked regularly singing both secular and gospel music in Las Vegas, NV and in concert events promoting radio stations owned by Mack Sanders. Melody Boys bass singer Gerald Williams was with the Plainsmen on two occasions singing bass and also switched to baritone when the group was singing in Las Vegas in a trio format.
The Plainsmen Quartet. (2011, July 7). Retrieved July 23, 2011, from Southern Gospel History website: http://www.sghistory.com/index.php?n=P.Plainsmen