No albums list this artist in credits. You are able to edit albums and add credit info if you have created an account.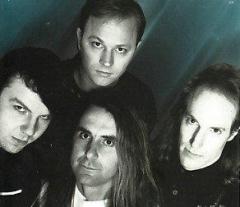 Mad at the World
Mad at the World was a christian rock band active from 1987 to 1998 in Southern California. It originally consisted of brothers Roger and Randy Rose with Mike Pendleton, later joined by Brent Gordon. Pendleton and Gordon left the band in 1992 and were replaced by Mike Link and Ben Jacobs. The band produced seven studio albums, one compilation package and two double reissues of previous albums.
Roger Rose was a mail carrier in southern California when he formed the band in 1987. The job gave him a chance to work out songs in his head, writing ideas down when he got back to his Jeep. He also already owned a lot of synthesizers, drum machines and recording equipment. One day while on his route, he stuck a tape in a Frontline Records executive's mailbox.
In 1987 the band, consisting of Roger Rose, his brother Randy (who was only fifteen years old at the time) and their friend Mike Pendleton, released Mad at the World. The disc was unique in Christian music for featuring a synth-pop style of dance music heavily influenced by bands like Tears for Fears and especially Depeche Mode.This was at a time when the Christian music scene was dominated by Amy Grant and Stryper was breaking out. Roger's personal taste ran towards the sounds of Ultravox and Depeche Mode, a sound that no Christian band was playing at that time, prompting him to create the band and write the music. He attempted to "avoid church talk and cliche, (resulting) in some fresh, invigorating images." Although not the best-selling album by the band, it is fondly remembered by many fans.
Although Roger has stated that Mad at the World was the band's first and last disc not recorded entirely at Roger's home studio, the drum tracks for Through the Forest and The Ferris Wheel were both recorded at Randy's studio, Rose Studios.
Released in 1988, Flowers in the Rain, their second disc, was still "techno-rock" but "the guitars are much more aggressive and the songs provide more variation". It was their first to chart and the second-highest charting album they produced. The songs dealt with issues like self-image ("Fearfully and Wonderfully"), putting trust in God instead of other people or Satan ("Holding the Puppet Strings"), and people's use of excuses to hold on to bad habits ("This Lie").
One of the things that stood out for many people about the first two albums was Roger's faux British accent.
Because the synthpop sound of the first two albums was difficult to emulate live the band decided to change direction. Beginning with their third disc, Seasons of Love, and in order to have a sound more amiable for live performances, the band's musical style shifted to hard rock for the next three albums. Seasons of Love, released in 1990 and the first disc to feature Brent Gordon on guitar, was the band's highest charting album, reaching number 18 on the Billboard Top Contemporary Christian chart. The band's switch to hard rock was jarring for some people. It features some very aggressive and energetic songs, including "Promised Land" and "So Insane", both of which deal with drug abuse. The album in general had the band being compared to The Cult, Danzig and The Cure.
In 1991 the band released Boomerang which included what has been called "the most controversial MATW song of all time," "Isn't Sex a Wonderful Thing?" The disc continued the trend of a heavier sound, with "If You Listen" rendering an atmosphere that can "make one envision a mysterious haunted mansion complete with a graveyard." The song "Sunday" drew comparisons to Alice In Chains and "Don't Give Up" "generates a sort of race car feel similar to songs by Stone Temple Pilots." Lyrically it focuses on sin, redemption, and God's love for people.
Through the Forest was released in 1992, the band's fifth studio album and the last to feature founding member Mike Pendleton and guitarist Brent Gordon. The two would leave the band following this disc. Why Pendleton and Gordon left is unclear, Gordon makes little reference to the band on his blog and no mention of why he joined or left. In an interview, Roger said, "they didn't really quit the band--they kinda quit and got fired all at the same time." Roger thanked them in the liner notes for the next disc.
1993 saw the release of The Ferris Wheel. This was the first disc to feature Ben Jacobs on guitar and Mike Link on bass. They joined that year to replace Mike Pendleton and Brent Gordon. The two were in Randy's solo band, Rose, and while Roger was trying to decide whether to pursue a solo career or find new band members, they were suggested by Randy as good replacements. The band's style changed radically on this disc, going from the hard rock of the previous three discs to a more retro, power pop, Beatles-esque sound. In an interview on the show "Real Videos"  the band referred to the new sound as "indy," "alt" and (laughingly) "college." They also premiered their only production video, for "Eyes of Heaven" on this show.
In the liner notes for the disc, Roger writes; "Extra Special Thanks To: Brent Gordon and Mike Pendleton for your friendship, years of hard work and musical contribution to M.A.T.W. with such little reward."
The Dreamland Café was released in 1995, the band's final studio album. It continued the trend of softer, Beatleseque powerpop-oriented rock. This is also the only disc where Roger plays drums. In an interview, Roger said that there were songs where he did everything, and it was the result of a small budget and having a hard time getting everybody together. Thematically, he said the album could be interpreted "as a metaphor for the Church, or...Christianity or Christ...it's a little metaphor for...the optimistic, hopeful side of Christianity."
The Dreamland Café was also the final album for Frontline Records. The band dissolved in 1998, having performed with various line-ups for eleven years.
Mad at the World was not known as a touring band and it affected their sales. In an interview after the release of The Dreamland Café Roger commented on this. The band were not willing to quit their day jobs and tour extensively because the Christian music market was and remains a small piece of the overall music market and rarely intersects with secular music. One time the band did tour several states for approximately a month and found it encouraging, but because it burned up vacation time it was not repeated. Other than that, the band played sporadically, even in their home-base of southern California.
Mad at the World. (2011, January 15). In Wikipedia, The Free Encyclopedia. Retrieved 00:56, June 21, 2011, from http://en.wikipedia.org/w/index.php?title=Mad_at_the_World&oldid=408111791
Websites:
External links are provided for reference purposes. Christian Music Archive is not responsible for the content of external internet sites.