No albums list this artist in credits. You are able to edit albums and add credit info if you have created an account.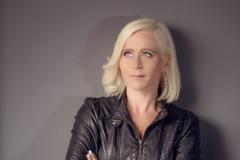 Lou Fellingham
Louise "Lou" Fellingham (née Hunt) is a Christian worship leader, singer, and songwriter from Brighton in East Sussex, England. She is a founding member of the British band Phatfish and has also pursued a solo career. In 2008, she won a Christian Broadcasting Council (CBC) Award for her album Promised Land, in the category of Best Worship. She has worked alongside other Christian artists such as Matt Redman, Graham Kendrick, Tim Hughes, and Stuart Townend. She regularly leads worship and performs at different venues around the world. A rendition of Fellingham leading the hymn "In Christ Alone" has had more than six million views on YouTube.
Louise Fellingham grew up in the West Sussex village of Turners Hill in England, where she attended the Turners Hill Free Church. In her teens, during the late 1980s and early 1990s, she sang in two local Christian groups, The Turners Hill Mob and 4th Dimension. Both gained local acclaim among the churches and youth groups of mid-Sussex. In 1998, she married Nathan Fellingham, the drummer and one of the founding members of Phatfish. Together, they have three children.
The family attends the Church of Christ the King (CCK), where they are frequently involved in leading worship and musical projects. In particular, Fellingham serves the church by training and managing their 50-member church choir. Nathan's father, David Fellingham has served as one of the elders since 1979. The church is also home to Stuart Townend, Paul Oakley and other prominent Christian figures. The evangelical church is affiliated with the Newfrontiers neocharismatic church network and is located at the Clarendon Centre near Brighton railway station.
Fellingham has been the lead singer of the British Christian band Phatfish for the last 17 years, which has played in worship conferences, concert halls, and music festivals, touring throughout Europe and around the world. She has also performed as a soloist and worship leader and has toured extensively throughout the UK, Canada, and the United States.
Wikipedia contributors. (2019, September 25). Lou Fellingham. In Wikipedia, The Free Encyclopedia. Retrieved 15:34, September 28, 2019, from https://en.wikipedia.org/w/index.php?title=Lou_Fellingham&oldid=917707892
Websites:
External links are provided for reference purposes. Christian Music Archive is not responsible for the content of external internet sites.