No albums list this artist in credits. You are able to edit albums and add credit info if you have created an account.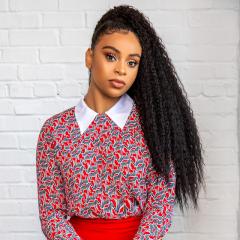 Koryn Hawthorne
Koryn Mattanah is an American contemporary Christian music and gospel singer. Hawthorne was a finalist in season 8 of NBC's singing competition The Voice, at the age of 17, as a member of Pharrell William's team. After placing fourth on the show, Hawthorne got signed to RCA Inspiration, a division of Sony Music dedicated to gospel music recordings. Her debut studio album, Unstoppable, was released on July 13, 2018, and earned her multiple awards nominations, including two Grammy nominations.
Hawthorne was born to Summers Dozier-Simon and Corey Hawthorne in the small town of Abbeville, Louisiana, where she grew up. She has been performing since the age of 9 when she joined an organization called Louisiana Kids, in which she would compete against other kids in her state. As she got older she continued to sing locally at nursing homes, churches, and different charity events. Before auditioning for The Voice, Hawthorne held a part-time job at Little Caesars. On May 14, 2016, Koryn became a graduate of Lighthouse Christian Preparatory High School in Abbeville.
Wikipedia contributors. (2019, November 27). Koryn Hawthorne. In Wikipedia, The Free Encyclopedia. Retrieved 23:27, November 30, 2019, from https://en.wikipedia.org/w/index.php?title=Koryn_Hawthorne&oldid=928168203
Websites:
External links are provided for reference purposes. Christian Music Archive is not responsible for the content of external internet sites.