No albums list this artist in credits. You are able to edit albums and add credit info if you have created an account.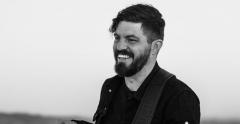 Josh Baldwin
Josh Baldwin is an American Christian singer, songwriter, and worship pastor. A member of the Bethel Music collective, Baldwin also serves as a worship leader at Bethel Church in Redding, California.
Josh Baldwin starting serving as a worship leader at MorningStar Fellowship Church after attending the ministry school there. He independently released Changing, his first album, in 2008. In 2010, Baldwin then joined Queen City Church in Charlotte, North Carolina, serving as a worship pastor. Baldwin released Rivers in 2014, earning him his first Billboard chart appearance with a placement on the US Heatseekers Albums.
Josh Baldwin signed with Bethel Music in 2014 and moved to Redding, California to join Bethel Church. Baldwin made his first feature on a Bethel Music collective release, Have It All (2016). Baldwin then released The War Is Over, his first solo effort with the label in mid-2017 to critical acclaim, and the album debuted in the top-three sector of the American and British Christian music charts.
Bethel Music and Josh Baldwin released the song "Stand in Your Love" in 2018, as the lead single to Victory (2019). The song reached the top ten of the US Christian Songs chart, Baldwin's first entry on the chart. It also garnered Baldwin's first nominations for the 2019 K-Love Fan Awards in the Breakout Single of the Year and Worship Song of the Year categories.
Wikipedia contributors. (2020, September 19). Josh Baldwin. In Wikipedia, The Free Encyclopedia. Retrieved 18:32, September 22, 2020, from https://en.wikipedia.org/w/index.php?title=Josh_Baldwin&oldid=979189282
Websites:
External links are provided for reference purposes. Christian Music Archive is not responsible for the content of external internet sites.