No albums list this artist in credits. You are able to edit albums and add credit info if you have created an account.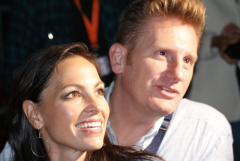 Joey+Rory
With all the critical acclaim, awards, tv exposure, and commercial endorsements they've received, you'd hardly believe this husband-and-wife duo still live in the same farmhouse they did when they got started singing, and Joey still works at their family-owned cafe on her days off. But they do, and that's part of what makes them so special.  In this new world industry of made-for-tv artists, the 2010 Academy of Country Music's "Top New Vocal Duo" award winners, Joey+Rory are as real as they come.
A gifted and highly sought-after songwriter, Rory has written four #1 hits (among them 'Some Beach' and 'A Little More Country Than That') and had dozens of his songs recorded by the biggest artists in country music.  Known for his trademark overalls, homespun storytelling, sense-of-humor, and brilliant lyrical ability, Rory was already one of the most highly regarded songwriters in Nashville, before joining forces with his wife in 2008 as a recording duo.  After a decade of chart-topping songs for others, he and Joey are now writing hit songs for themselves (and many others) and taking the world by storm with their love story and unique brand of 'new classic' country music.  Though she gets her singing talent from her mama, Joey's stunning voice is often compared to her heroes Emmylou Harris & Dolly Parton, for its beauty, warmth, and sincerity.
Having grown up owning and riding horses, Joey brings a cow-girl flair to everything the couple does.  Sponsored by Roper/Stetson western wear, on each album of the 4 albums they've made, the couple has a recorded a western-themed song.  From the romantic "Tonight Cowboy You're Mine" to the brilliant "The Horse Nobody Could Ride", Joey+Rory are determined to keep western stories and music alive and living well in mainstream music, as well as the Western Music scene.
Joey+Rory are as at home in front of an audience as they are in the 1870's farmhouse in Tennessee that they live in.  They bring that lifestyle to every show they play.  It almost feels like you're in their living room and they're sharing their whole world with you.
Their hit weekly television series "The Joey+Rory Show" on rural America's RFD-TV is a huge hit every Friday night all across the country.  And they have a new album, an Inspirational tv special, and a weekly radio show in the works.
Joey Feek lost her battle with cervical cancer in March 2016.
Websites:
External links are provided for reference purposes. Christian Music Archive is not responsible for the content of external internet sites.