No albums list this artist in credits. You are able to edit albums and add credit info if you have created an account.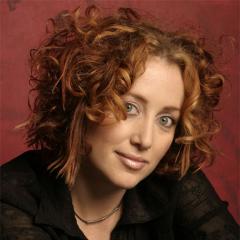 Jeni Varnadeau
Alternative CCM singer/songwriter Jeni Varnadeau was raised in Albuquerque, New Mexico, relocating to Nashville in 1992 to finish her degree in commercial music at Belmont University. There she recorded a six-song EP and began regularly performing live in local churches, clubs and coffeehouses; her tape eventually made its way to the offices of the Pamplin Music label, and in 1997 they issued Varnadeau's full-length debut Colors of Truth.
In 2008, Jeni announced on her MySpace blog that she was contemplating a name change to Alexa James "since Varnadeau is difficult for people to spell, pronounce, and find on the web." She has since released a new album in 2009 under the new moniker.
Ankeny, J. (n.d.). Jeni Varnadeau. Retrieved January 16, 2012, from Billboard website: http://www.billboard.com/artist/jeni-varnadeau/186802#/artist/jeni-varnadeau/bio/186802
Websites:
External links are provided for reference purposes. Christian Music Archive is not responsible for the content of external internet sites.