No albums list this artist in credits. You are able to edit albums and add credit info if you have created an account.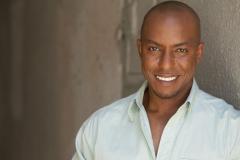 Javen Campbell
As an internationally acclaimed Recording Artist based in Los Angeles, JAVEN has the dynamic talents of Singer/Songwriter, Actor, Speaker, and Producer. With more than 10 years in the industry, he has won multiple awards for his outstanding work and gained notable recognition across the country and around the world.
Building both his music and film careers on a foundation of integrity and individualized style has earned him critical praise and audience approval. JAVEN began his TV career as a co-host on the "Paula White Show" on BET from 2001-2002. He has since become a frequent guest soloist appearing on many networks including BET, TBN, FOX, NBC, GMC, and more.
His impeccable stage presence led him to star in numerous productions. He was a lead in the theatrical production of A Raisin in the Sun. From 2002-2003, he starred in the off Broadway musical The Rock and the Rabbi. He then moved to the big screen in 2005 starring in the movie The Sixth, and in One Night with the King with Omar Sharif and Peter O'Toole in 2006. Continuing with his passion for acting, JAVEN landed a role in the adopted screenplay Mwen Solé in 2007. In 2010, he had a supporting role as "Garrett" in the Preacher's Kid starring Clifton Powell, Tank, and former Destiny's Child LaToya Luckett; a supporting role in the film Abandoned starring Britney Murphy; and several other independent films. As a songwriter, JAVEN wrote and recorded the hit single "One Step" which was featured in the film The Cross released in 2010.
While balancing an acting career, JAVEN actively produced and delivered attention garnering music that his fans could enjoy and appreciate. While signed with Crowne/Word Records of Nashville, TN in 2002, his first single, "Never Give Up on Love" from the self-titled CD Javen soared to the top 10 CCM charts. In 2003, he released his first independent CD, Change, on his production label jRock Entertainment. "Change" was widely received on gospel radio around the country and nominated for several awards topping the charts.
With a proven track record, JAVEN was recognized with numerous nominations from prestigious award platforms. In 2004, he was nominated for the Marlin Awards Best Male Contemporary Solo, Best Male Artist, Best Song, and Best Gospel Performance of the Year. JAVEN won two of the four award nominations. He later won the 2007 En Sound Music Award for "Best Urban Soul Album of the Year."
In 2009, JAVEN released the Keeping the Faith CD, which includes both passionate ballads as well as household favorites like the hit single, "None Like You," which received award nominations such as Best Contemporary Video from GMC and a Dove Award nomination. This dynamic CD features the talents of Recording Artist Israel Houghton, Gospel Recording Artist Deitrick Haddon, Recording Artist Damita Haddon, and industry favorite, Peter Mokran.
This multi-talented recording artist was once a full-time worship leader at a mega-church for many years. He leveraged his talent while hosting a weekly one-hour radio show drawing over 6 million hits and reaching over 250,000 listeners. He now travels doing over 130 dates per year singing and speaking across the country and around the world in countries like Africa, Indonesia, Europe, Canada, Brazil, the Caribbean, and more.
Near and dear to JAVEN's heart is supporting missions across the world. He is a spokesperson for World Vision, a Christian humanitarian organization dedicated to working with children, families, and their communities worldwide tackling the causes of poverty and injustice; a consistent donor and supporter of Hope for Haiti, an incredible missions program that houses, feeds, educates and trains over 300 children in Haiti; and participates in several domestic mission programs that deal with homelessness, hunger, and poverty in the Los Angeles, CA area.
JAVEN recently launched the Worship in the Now Series, a powerful two-day seminar on music, worship, songwriting, life lessons, and more. In 2012, JAVEN will release his long awaited Live CD Recording entitled Worship in the Now, produced by Stellar Award Winner, Jonathan Nelson. With this and several new projects in the works that span everything from film to books, this man of many talents has no desire to slow down any time soon. Through his message of both love and hope, JAVEN desires to see lives changed wherever he goes.
Biography. (n.d.). Retrieved December 9, 2014, from JavenOnline website: http://www.javenonline.com/news.htm
Websites:
External links are provided for reference purposes. Christian Music Archive is not responsible for the content of external internet sites.