No albums list this artist in credits. You are able to edit albums and add credit info if you have created an account.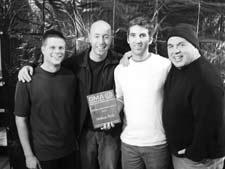 Hokus Pick
Hokus Pick (or Hokus Pick Manoeuver) was a Christian pop/rock band that was together from 1988 to 1999. The four members of Hokus Pick met in Vancouver, British Columbia. Hokus Pick was well known for their quirky sense of humor, using sarcasm, satire, and general silliness to convey a deeper message.
Hokus Pick toured extensively in Canada and the United States. The band opened for Steve Taylor's Squinternational tour in 1994 and played in Costa Rica in May 1998. The group released their final album in 1999, opting to spend more time with their families after more than a decade of recording and touring together. They have remained active in music ministry and the industry.
The Encyclopedia of Contemporary Christian Music cites their song "I'm So Happy" as possibly the Greatest CCM song of all time. The song is a satire of simplistic lyrics often heard on Christian radio/ It received heavy rotation on Christian stations.
In October 2007 Hokus Pick received a Lifetime Achievement Award from the Canadian Gospel Music Association at the 29th Annual Covenant Awards in Calgary, Alberta. Hokus Pick then performed live and hosted the 30th Annual Covenant Awards on October 24, 2008.
Rumors abounded that Hokus Pick was planning a comeback into music, after having been spotted in a secluded warehouse jamming together. Filmmaking company Transposition Films, composed of legendary members itself, avoided questions regarding their involvement in filming a documentary about the process.
Wikipedia contributors. (2020, January 25). Hokus Pick. In Wikipedia, The Free Encyclopedia. Retrieved 14:57, October 18, 2020, from https://en.wikipedia.org/w/index.php?title=Hokus_Pick&oldid=937443051