No albums list this artist in credits. You are able to edit albums and add credit info if you have created an account.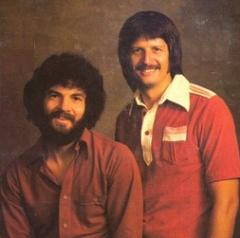 Gospel Seed
Gospel Seed formed as a folk duo in 1974 and played the Christian coffeehouse circuit that had grown up during the Jesus movement. They also gave a nod to televangelism, appearing on both The 700 Club and The PTL Club. The group eagerly describes their music as ministry: "The songs we write and sing tell a message of what Jesus Christ can do in a life." On Growing, the folk-pop songs are orchestrated to the hilt with string accompaniments that let Jesus Music almost to dismiss it as "schmaltzy."
Powell, M. A. (Ed.). (2002). Encyclopedia of Contemporary Christian Music (2nd ed.). Peabody, MA: Hendrickson Publishers, Inc.