No albums list this artist in credits. You are able to edit albums and add credit info if you have created an account.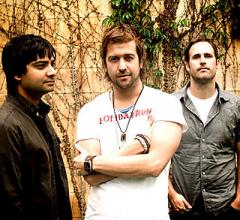 Desperation Band
Desperation Band was a worship band led by Jon Egan, and part of the worship ministry of New Life Church in Colorado Springs, Colorado.
The band has been featured on the main stage at Creation East and Kingdom Bound and has led worship in the Worship Tent at both Creation East and Kingdom Bound. They have also been featured on Teen Mania's Acquire the Fire tour dates in stadiums around the country. Their albums, recorded live at New Life Church, appear on Integrity's Vertical Music label and feature "high-energy, passionate new worship songs that convey the hunger of their generation for God."
Desperation Band was first formed in 2001 when New Life Church pastor David Perkins suggested that Jon Egan, Jared Anderson, and Glenn Packiam play together with their bands at the first Desperation Conference. Held annually in July, Desperation Conferences draw thousands of college and high school students.
The song "I Am Free", written by band co-founder Jon Egan and recorded by the band for 2004's From the Rooftops, was later covered by the Newsboys, for whom it became a hit single.
Wikipedia contributors. (2019, November 26). Desperation Band. In Wikipedia, The Free Encyclopedia. Retrieved 22:36, January 20, 2020, from https://en.wikipedia.org/w/index.php?title=Desperation_Band&oldid=928074983
Websites:
External links are provided for reference purposes. Christian Music Archive is not responsible for the content of external internet sites.