Dan Gaub is listed in the credits for the following albums: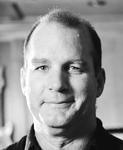 Dan Gaub
Where are they Now:
Daniel John Gaub, 53, of Yakima, WA, went to be with the Lord on Friday, May 4, 2012, as the result of a motorcycle accident. Daniel was born March 12, 1959 in Hazard, Kentucky to Ken & Barbara (Mains) Gaub.
Daniel spent his youth traveling as the lead guitarist of a Gospel Band called Eternity Express/Illustrator.
In April of 1981, Dan married his childhood sweetheart, Dawndee Johnston, also of Yakima. After the band fulfilled its mission, they made their home here in Yakima. Dan was a member of Stone Church, where he and his whole family continued to be very active in the musical ministry.
Dan made helping others his life's mission. He mentored hundreds of people worldwide to accomplish life changing goals. Dan served on the executive board of Ken Gaub Ministries.
He was a much loved husband, father, son, brother and friend to many. He is survived by his wife, Dawndee of Yakima; two sons, Jourdan (Lynnae Gutierrez) of Seattle and Joshua (fiancée Kendra Collins) of Yakima; his parents, Ken and Barbara Gaub; a brother, Nathan (Doris) Gaub; and a sister, Becki (Santiago) Segura, all of Yakima; 2 nieces, Jannessa (Matt) Hearn and Brittney Segura and a nephew, Austin Segura; also his mother and father-in-law, John & Vi Johnston of Yakima; He was preceded in death by an infant brother, Ken Gaub, Jr.
Obituaries. (2012, May 10). Retrieved August 21, 2012, from Yakima Herald website: http://www.yakima-herald.com/obits/2012/05/10/daniel-gaub