No albums list this artist in credits. You are able to edit albums and add credit info if you have created an account.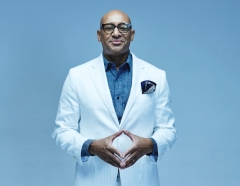 Brian Courtney Wilson
Brian Courtney Wilson is an American gospel and contemporary Christian music singer. Wilson was raised in the Chicago area. In his childhood, Wilson began singing with the adult male chorus with his father at the Rock of Ages Baptist Church in Maywood, Illinois.
Wilson enrolled at the University of Illinois, where he also sang in the University of Illinois Black Chorus. He eventually graduated with a degree in liberal arts and sciences, with an emphasis on economics. Wilson took a job as a pharmaceutical salesman while he continued to sing in his free time.
After seven years, Wilson moved to Houston, Texas, to work for Johnson & Johnson. He started visiting Windsor Village United Methodist Church with a friend and became a born-again Christian. After some time, Wilson was invited to write music for their services, with some of his songs receiving airplay on local radio stations.
At some point, Wilson met Pastor Rudy Rasmus, who was looking for songs to pitch to friend and music entrepreneur Mathew Knowles. After listening to Wilson's song "Already Here," Knowles signed Wilson to his record label Spirit Rising/Music World.
Wikipedia contributors. (2021, May 26). Brian Courtney Wilson. In Wikipedia, The Free Encyclopedia. Retrieved 18:15, September 1, 2021, from https://en.wikipedia.org/w/index.php?title=Brian_Courtney_Wilson&oldid=1025159896
Websites:
External links are provided for reference purposes. Christian Music Archive is not responsible for the content of external internet sites.