No albums list this artist in credits. You are able to edit albums and add credit info if you have created an account.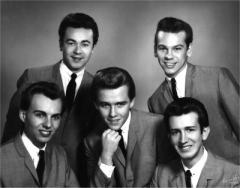 Blackwood Brothers
The name "Blackwood Brothers" is a name that is synonymous with Gospel Music. Their music has been heard around the world on radio, recordings, television and in personal appearances.
The Blackwood Brothers formed in 1934 in Choctaw County, Mississippi. The original members were brothers Doyle Blackwood, James Blackwood, Roy Blackwood and his son, R. W. Blackwood. In June 1954, the Blackwood Brothers Quartet appeared on the "Arthur Godfrey's Talent Scouts" show on television. They won the competition with their stirring rendition of "The Man Upstairs."
Two weeks after the Arthur Godfrey appearance, two of the Blackwood Brothers, R. W. Blackwood and Bill Lyles, were both killed in a plane crash in Clanton, Alabama. The surviving Blackwoods regrouped adding R. W.'s younger brother, Cecil, to sing baritone and J. D. Sumner, singing bass.
In 1956, James Blackwood, Cecil Blackwood and J. D. Sumner organized the first National Quartet Convention which still exists today and is held in Louisville, KY.
The Blackwood Brothers introduced the first customized tour bus. A replica of their bus is on display in the Southern Gospel Music Hall Of Fame at Dollywood.
Elvis Presley loved gospel music and attended many of the conventions the Blackwood Brothers held at the Ellis Auditorium in Memphis. Backstage, Elvis joined James Blackwood, Hovie Lister and J. D. Sumner for an impromtu rendition of "How Great Thou Art."
When his mother, Gladys Presley, died in 1958, Elvis and Vernon asked the Blackwood Brothers to sing for her funeral. The Blackwood Brothers were touring in North Carolina at the time, however, a plane was chartered and they were able to fly to Memphis. Elvis had them sing many of his favorite songs such as "Rock of Ages," "I Am Redeemed," "Precious Lord Take My Hand," "In the Garden," and his mother's favorite song, "Precious Memories."
The Blackwood Brothers were guests on The Barbara Mandrell Show, Hee-Haw, Tom Snyder, Porter Wagoner, Grand Old Opry and had their own television show for many years. They sang with many great singers: Johnny Cash, Porter Wagoner, Tennessee Ernie Ford, Jim Nabors, The McGuire Sisters and many more. They also made guest appearances for the Billy Graham Crusades, Liberty Bowl, and the Presidential Prayer Breakfast.
In the early 80's James joined the Masters V, and later he formed The James Blackwood Quartet and continued singing solo and sang at special events. He also was involved in the Bill Gaither Homecoming videos.
The Blackwood Brothers have recorded over 200 albums and toured in 47 countries. They won eight Grammy Awards and 6 Dove Awards. They were inducted in the "Gospel Music Hall of Fame" in Nashville, TN in 1998.
In 2003, "We Called Him Mr. Gospel Music: The James Blackwood Tribute Album," with The Jordanaires, Larry Ford and The Light Crust Doughboys, won Best Southern, Country, or Bluegrass Gospel Album of the Year
James Blackwood was nominated for a Grammy Award thirty-one different years. The Gospel Music Association has presented Mr Blackwood with its highest recognition, The Dove Award, seven times for being the top male vocalist in his field.
Blackwood Brothers History. (n.d.). Retrieved January 6, 2015, from Blackwood Brothers website: http://www.blackwoodbrothers.com/history.htm
Websites:
External links are provided for reference purposes. Christian Music Archive is not responsible for the content of external internet sites.