No albums list this artist in credits. You are able to edit albums and add credit info if you have created an account.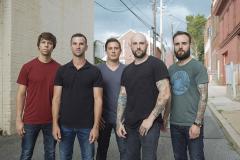 August Burns Red
Where are they Now:
August Burns Red is an American metalcore band from Lancaster, Pennsylvania formed in 2003. The band's current lineup consists of vocalist Jake Luhrs, rhythm guitarist Brent Rambler, lead guitarist John Benjamin "JB" Brubaker, bassist, and keyboardist Dustin Davidson, and drummer Matt Greiner. The band was nominated for a Grammy Award in 2016 for Best Metal Performance for the song "Identity" from its 2015 release Found in Far Away Places, and again in 2018 for "Invisible Enemy" from their most recent studio album Phantom Anthem (2017). In 2018, the Christmas EP Winter Wilderness was released.
August Burns Red is generally credited as a metalcore band and has also been said to share progressive metal elements. The band is also identified as a melodic metalcore band. August Burns Red songs frequently feature highly melodic guitar riffs, technical or odd time signatures and breakdowns, with a variety of influences. Unlike other melodic metalcore vocalists, Jake Luhrs generally does not mix clean vocals with his screams, though he does include spoken word parts on occasion. For example, their track "Spirit Breaker" features Luhrs reading a letter. However, that changed when the band released Phantom Anthem, which featured Luhrs' clean vocals for the first time in a few songs, most notably "Coordinates".
While the group has stated that they don't mind being classified as metalcore, Brubaker has grown a distaste for many of the genre's bands: "I feel like anyone who can pick up and play a guitar and learn to play a metalcore riff and any drummer who can learn to play a thrash beat over a breakdown is doing it. It's almost become very formulaic, and metal to me was never a formulaic genre." Musically, the group has incorporated instrumentals such as the cello and the violin while also featuring song elements such as classical music inspired interludes, pushing the boundaries of what is considered 'metalcore'. Many of their songs do not contain choruses, unlike other bands in the metalcore scene.
Band name
August Burns Red members have been asked about the origin of their band name on many occasions and have given numerous different stories. The most popular story behind the name is an incident involving Jon Hershey, the band's original vocalist when he dated a woman named August who burned his dog Redd alive in his dog house.
However, it was later revealed in a radio interview that this meaning (along with others) was simply a comical story created by the members and that there is no actual meaning behind the band name. Drummer Matt Greiner stated in the interview that "we just came up with the name to come up with a name."
Christianity
August Burns Red is a Christian band. JB Brubaker mentioned in an interview with online magazine Shout!, that "Christianity is a religion, not a style of music" and he would "rather just let the music speak for itself.", and that he would rather let Christianity shine through the band's lyrics. Brent Rambler commented on the fact that "It is important to us that people know that we are indeed Christians... without having us stand up there and ram it down people's throats."
JB Brubaker responded to a 2015 interview question about the band's reaction to being labeled as a Christian metal band by explaining that the presence of Christianity varies in each of the members' lives, but then says, "We decided years ago that we were not going to be an 'evangelical band.' We're not onstage to bring people to God, that's not our purpose up there. Our number one purpose in ABR is to entertain." In a 2014 interview, Jake Luhrs responded to a similar question by saying, "No, we are not a Christian band because, in my eyes, and I'm a believer in Jesus Christ...that doesn't mean because all of us are Christians we are now a Christian band."
Since the members of the band are Christian, their beliefs are sometimes reflected in their writing and lyrics. However, these lyrics aren't meant to be religious but rather, positive and in songs such as "Fault Line", for the band's fans. Brent Rambler said in a 2016 interview, "We don't preach from stage, and we made the active choice that this band is about music, and being a positive influence. Since a lot of people correlate Christianity for positivity, that label has stuck with us." Recently some of the members have stated in interviews that not all of the band are Christian. They have said that they now just hope to spread positive messages in their music and lyrics, whether they are perceived as spreading a Christian message or not.
Wikipedia contributors. (2019, January 11). August Burns Red. In Wikipedia, The Free Encyclopedia. Retrieved 21:21, January 19, 2019, from https://en.wikipedia.org/w/index.php?title=August_Burns_Red&oldid=877805424
Websites:
External links are provided for reference purposes. Christian Music Archive is not responsible for the content of external internet sites.