No albums list this artist in credits. You are able to edit albums and add credit info if you have created an account.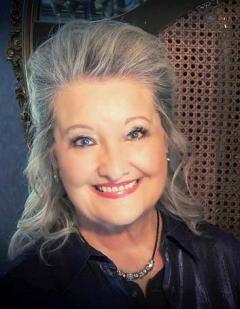 Ann Downing
More than likely you've seen Ann Downing as a regular on the popular Gaither Homecoming Video series, however, the majority of her time is spent maintaining a full schedule of church concerts and speaking engagements throughout the United States, Canada, and parts of Europe.
Raised on a cotton farm in rural Mississippi, Ann grew up dreaming of the day she'd sing Gospel music all over the world. Right out of high school she began to realize her dream by securing a position with the legendary Speer Family. Five years later she met Paul Downing. Paul's booming bass voice singing "There She Is Miss America" in the middle of a restaurant captured Ann's attention, and Paul eventually proposed- twice. That's quite the story! Soon after marriage, Ann and Paul co-founded a group that helped shape Gospel music as it exists today. Ann became the winner of her industry's highest honor—the Dove Award—for Female Vocalist within a year of co-founding the Downings and went on to be inducted into the Gospel Music Association Hall of Fame for her work with the Speer Family. In September 2018, Ann was inducted into the Southern Gospel Music Association Hall of Fame as a soloist.
Today, Ann continues to expand her mark on Gospel music through solo ministry. She is also a speaker and author (Skidmarks on the Road of Life). Ann enjoys speaking at women's events and retreats, seniors' events, and retreats, and lay retreats. Her favorite event every year is the women's retreat she and Paul were planning just before he passed way, Middle Tennessee Women's Retreat.
Ann Downing Ministries: The History. (n.d.). Retrieved May 16, 2020, from Ann Downing Ministries website: https://anndowning.com/about
Websites:
External links are provided for reference purposes. Christian Music Archive is not responsible for the content of external internet sites.