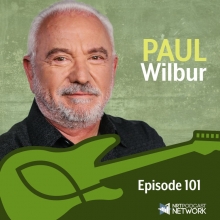 Some of my favorite kinds of stories are the way God directs his kids' lives, sometimes even without us realizing it. My guest today has a fantastic story about God's plans for his life. Paul Wilbur was set to become an Opera singer and traveled to Italy to learn from the best teachers he could find. That was the groundwork for a different kind of singing career than he had planned. But, an encounter with God, thanks to a meal with a family at church, ultimately changed the direction of Paul's life, and soon he was singing for a different audience. Paul has gone on to release 25 worship albums and has become an internationally acclaimed worship artist, songwriter, speaker, and award-winning author. And today, we get to hear his story.
Paul Wilbur: Website, Facebook, Instagram, and Twitter.
And of course, on our page: Christian Music Archive.
Christian Music Archive Links: Website, Facebook, Instagram, Twitter, LinkedIn, and YouTube.
The podcast and our website are made possible through the generous support of listeners like you. Click here to donate.
**** Please check out Mercy, inc. and see how you can support them today! ****
The songs used in this episode are the intellectual property of their respective copyright owners and are used with the artist's permission.