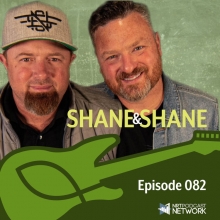 Today I welcome the founders of The Worship Initiative to the podcast. Shane Barnard & Shane Everett met in college and have been making music together ever since. According to my count, they have 28 albums and a dozen or more projects for the Worship Initiative. These guys have devoted their lives to equipping worship leaders, and I'm eager to hear their thoughts on using music as part of worship. They have just released a new album, and we'll talk a little about that, too.
Shane & Shane: Website, Facebook, Instagram, and Twitter.
And of course, on our page: Christian Music Archive.
Christian Music Archive Links: Website, Facebook, Instagram, Twitter, LinkedIn, and YouTube.
The podcast and our website are made possible through the generous support of listeners like you. Click here to donate.
**** Please be sure to check out Mercy, inc. and see how you can support them today! ****