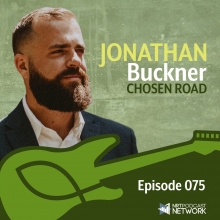 One of the things I get excited about doing this podcast is hearing all of the different styles of music out there. And I enjoy talking to people who use these different styles to further the Kingdom of God. So today, I'm exploring a music style that I don't talk about much but enjoy. Usually, I'd say we are headed to the Appalachian mountains of West Virginia. But my guest is on tour, so we've headed to Arkansas. Today I'm chatting with Jonathan Buckner of the band Chosen Road, and we're going to discuss their latest album called Appalachian Hymns. But we are also going to talk barbeque and about the replanting and revitalization of the church.
Chosen Road: Website, Facebook, and Instagram.
And of course, on our page: Christian Music Archive.
Christian Music Archive Links: Website, Facebook, Instagram, Twitter, and YouTube.
The podcast and our website are made possible through the generous support of listeners like you. Click here to donate.
**** Please be sure to check out Mercy, inc. and see how you can support them today! ****