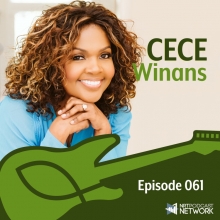 CeCe Winans is one of the busiest women in Gospel Music. She has been making music for almost 50 years, first singing at her church, then as part of the groundbreaking duo BeBe and CeCe Winans with her brother. She has gone on to a fantastic solo career, releasing more than 15 solo projects, and is the best-selling female gospel artist of all time. CeCe comes from a music family. There's Mom & Pop Winans. Her brothers formed The Winans. Her nieces and nephews have formed groups. I mean, music is in CeCe's DNA! With that kind of heritage, you might expect a diva of sorts. But that couldn't be further from the truth. CeCe is one of the sweetest, most humble people you'll ever meet, and her love of Jesus sparkles through even more than her sweet smile and bubbly personality.
CeCe Winans: Website, Facebook, Instagram, and Twitter.
And of course, on our page: Christian Music Archive.
Christian Music Archive Links: Website, Facebook, Instagram, Twitter, and YouTube.
The podcast and our website are made possible through the generous support of listeners like you. Visit Patreon to learn how you can support the work we do.
**** Please be sure to check out Mercy, inc. and see how you can support them today! ****