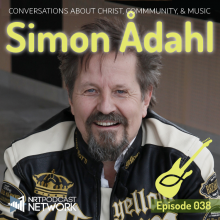 Today I am chatting with Simon Ådahl. Simon is a Swedish musician who has been part of the bands Edin-Ådahl and Bertil-Edin. He has also released some solo projects and several of these albums made their way to the states back in the mid-80s. Simon has some incredible stories to share about smuggling Bibles into the communist countries of Romania and Yugoslavia. But he also has a testimony of how forgiveness has completely changed the trajectory of his life, and I can't wait for you to hear this powerful testimony.
Simon Ådahl: Website and Facebook.
And of course on our page: Christian Music Archive.
Christian Music Archive Links: Website, Facebook, Instagram, Twitter, and YouTube.
The podcast and our website are made possible through the generous support of listeners like you. Visit Patreon to learn how you can support the work we do.