March 20, 2013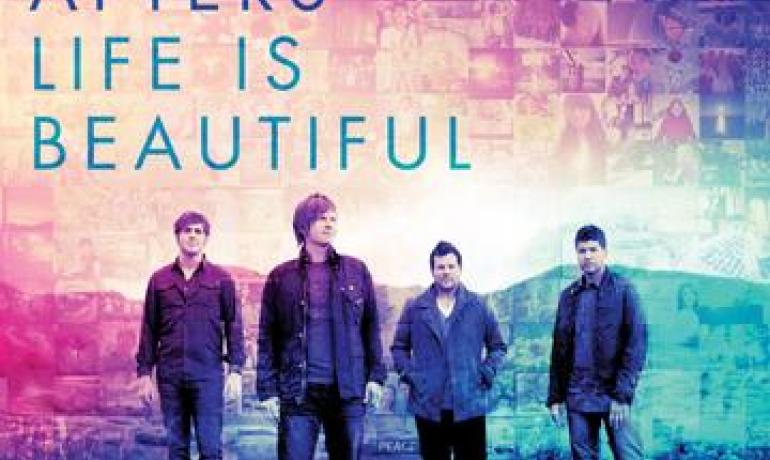 Nashville, Tenn. – Having created huge waves with their 2010 project Light Up The Sky, chart-topping foursome The Afters will deliver their much-anticipated new studio album, Life Is Beautiful, on April 16. The 12-track project—the band's 4th overall—comes more than two and a half years after the launch of their previous effort's success—delivering two No. 1 hits ("Light Up The Sky," "Lift Me Up") and a bevy of film and television placements (New Year's Eve, "The Biggest Loser," "The Hills," "Army Wives").
Joined once again by award-winning producer Dan Muckala (Backstreet Boys, Chris Tomlin, Britt Nicole) for eight of its 12 tracks, the new album draws inspiration from the encouraging promise that God is continuously with us and life is still beautiful no matter what challenges we face. The Texas-borne band—comprised of vocalist-guitarist Josh Havens, guitarist-vocalist Matt Fuqua, bassist Dan Ostebo and drummer Jordan Mohilowski—cites verse James 1:17 as a major source of inspiration for this album.
"Our hope for our record—and a lot of heartache went into this album—is that it will encourage people to see how God is working in their lives," says Havens. "He's not just there on the sunny days. No matter what we go through in life, God is still with us and life is beautiful—God is beautiful."
Life Is Beautiful began with challenging questions the band members posed to themselves. "As songwriters, we never want to make the same album twice," says Fuqua. "For us we try to go in asking: 'What can we do that's different? How can we stretch ourselves?' It was intentional to be really honest with our audience, and to be honest with ourselves by sharing things that are personal and meaningful."
The infectious lead single from Life Is Beautiful, "Every Good Thing," is already being well-received at radio, jumping into the Top 10 on the Billboard Hot AC/CHR Chart, Top 20 on the Billboard National Christian Audience Chart and Top 25 on the Billboard AC Monitored and Indicator Charts. 75 stations are already on board for "Every Good Thing" including K-LOVE, AIR 1, SiriusXM, KLTY/Dallas, KSBJ/Houston, KCMS/Seattle, The Fish Los Angeles, KTIS/Minneapolis, JOY FM/St. Louis, The JoyFM Tampa and KXOJ/Tulsa among many others. Commenting on the catchy track Havens says, "We wanted something strong, upbeat and positive. We were looking back over the last year and we were struck by how many times we'd wake up and see those horrific headlines in the news. We're reminded every day of how many bad things there are in life, so we wanted to write a reminder of how much God is capable of doing."