July 20, 2015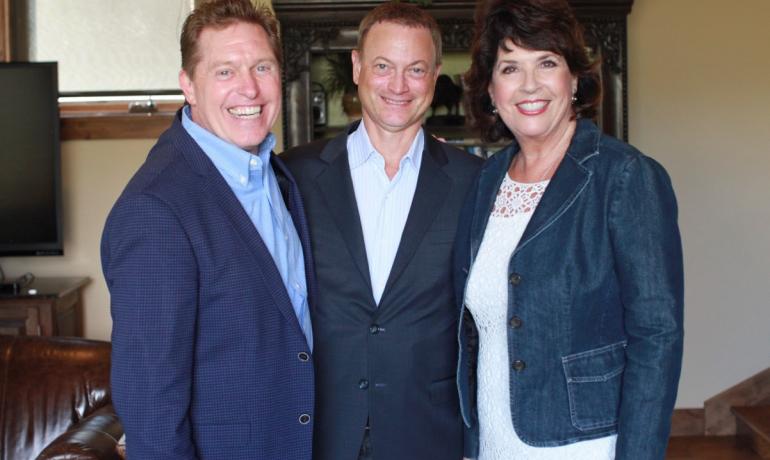 LOS ANGELES—Renowned recording artist and acclaimed Hollywood studio singer Steve Amerson performed at the Fourth Gary Sinise Foundation "Inspiration To Action" dinner in Los Angeles recently. Amerson regularly lends his talents to various fundraising events for the foundation, which benefits America's defenders and their families. He and Sinise also serve together as members of the Congressional Medal of Honor President's Advisory Group.
"It is a privilege to support those who serve or have served in our nation's military," says Amerson, a Bob Hope Excellence in Entertainment Award recipient from the Congressional Medal of Honor Society. "I love singing at events for my friend Gary's foundation, which helps build smart homes for severely wounded veterans and encourages military families."
Thankful, Amerson's 18th studio recording, is now available. A collection of 10 Inspirational favorites and original selections, highlights of the project include new arrangements of "You Raise Me Up" and "The Prayer" (a duet with acclaimed soprano Laurie Gayle Stephenson); "Better Than I"—a message of God's sovereignty in light of human uncertainty—from Disney's "Joseph: King of Dreams"; and "Alleluia, The Great Storm is Over," which expresses the longing in every heart for hope.
"I hope people are either encouraged or challenged—or both—by a song on this project," he shares. "I want to be singing songs with the kind of content that makes an impact."
A sought-after studio singer and voiceover talent in Hollywood, Steve Amerson has sung on some of the biggest box office hits of all time, including "Jurassic World," "Tomorrowland," "The Patriot," "Indiana Jones and the Temple of Doom," "Home Alone" and Disney's "Beauty and the Beast"; as well as such iconic television shows as "Cheers," "St. Elsewhere" and "Touched by an Angel"; and commercials for Honda, Texaco and Delta Airlines, among numerous others. A guest soloist with symphony orchestras around the country, he is also a regular worship leader for the historic Jefferson Gathering, the first weekly worship service to be held in the United States Capitol in nearly 150 years.
Source:
Turning Point Media Relations