July 25, 2013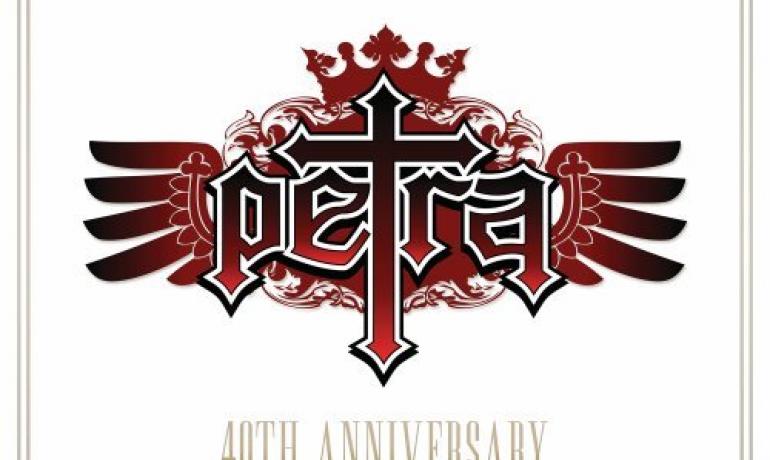 NASHVILLE, TENN. – To celebrate their illustrious 40-year career, Christian rock band, Petra, will release an exclusive CD project on July 30 featuring the band's biggest and most-loved songs.  The standard edition of 40th Anniversary will include 27 of Petra's hits, while the deluxe edition (digital copy only) will include 37 songs.  Both versions include a new recording titled "Holy Is Your Name."
"'Holy Is Your Name' is a thank you to all our fans, but mostly a thanks to God for all the wonderful years!" says Bob Hartman, founding member of Petra.  "We are happy to include it on the 40th Anniversary compilation."
Compiled by Hartman, 40th Anniversary displays Petra's four-decade career of music and ministry featuring hits like "This Means War," "Beyond Belief," and "Creed."  Long-time vocalist John Schlitt joined Hartman on a seven-city reunion tour this summer to share Petra's anniversary celebration with fans.
Over the course of their 40 years, Petra has released 24 projects, sold over 7 million albums, garnered four GRAMMY® Awards, 10 Dove Awards and several #1 radio hits.  Considered the "pioneer" of Christian rock, the band has successfully paved the way for numerous artists and has helped create a new genre of rock music.
40th Anniversary Track Listing
DISC 1
01. Why Should the Father Bother?            
02. Killing My Old Man            
03. For Annie            
04. Without Him We Can Do Nothing            
05. Angel Of Light            
06. Road To Zion            
07. Rose Colored Stained Glass Windows            
08. Judas' Kiss            
09. Stand Up            
10. Bema Seat            
11. Grave Robber            
12. Beat The System            
13. God Gave Rock And Roll To You            
14. Voice In The Wind        
   
DISC 2
01. Thankful Heart            
02. This Means War!            
03. He Came, He Saw, He Conquered            
04. All Fired Up            
05. Hit You Where You Live            
06. Beyond Belief            
07. Creed            
08. Dance            
09. Sight Unseen            
10. Midnight Oil            
11. Enter In            
12. Jekyll & Hyde            
13. Holy Is Your Name (NEW RECORDING)  
Additional Songs on the Deluxe Edition (digital copy only):
Chameleon, The Coloring Song, All Over Me, More Power To Ya, Godpleaser, Not By Sight, Computer Brains, Fool's Gold,  You Are My Rock and Mine Field