July 09, 2012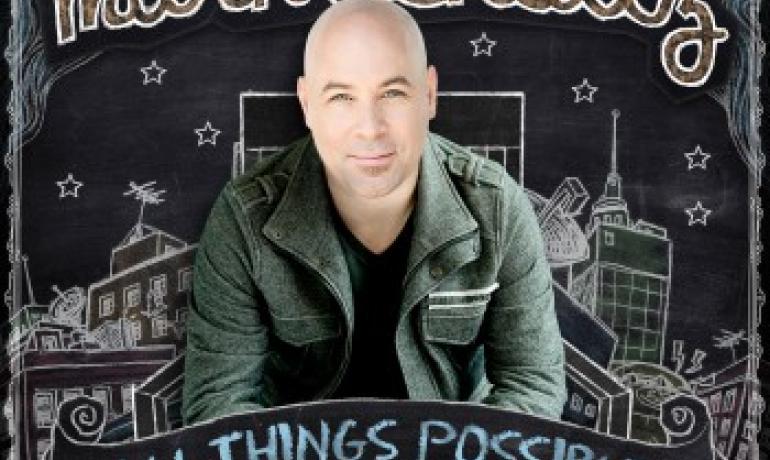 Nashville, Tenn. — Platinum selling artist Mark Schultz is set to release his first studio project in three years with his forthcoming album, All Things Possible, on September 4. During his career Schultz has been widely embraced for his hit songs such as, "He's My Son," "Remember Me," "Letters From War" and "I Am." The title track of the album is Schultz's forthcoming single, available at radio July 13. The single will also be available at digital retailers beginning on July 17. The album is Schultz's debut release from his new label home, FairTrade Services.
Schultz is no stranger to possibilities – from selling out the famed Ryman Auditorium in Nashville as an independent artist and youth leader, to biking 3,500 miles across the country raising money for widows and orphans. All Things Possible brings in a fresh perspective into Schultz's writing, as the multi-award-winning artist celebrated becoming a father with the birth of he and his wife, Kate's first child earlier this year and worked with The James Fund, a non-profit that works with aiding widows and orphans around the world. Schultz also took an extended trip this past year to Italy with Kate to work on new music for the anticipated studio project. Produced by Pete Kipley (MercyMe/Phil Wickham) and Seth Mosley (Newsboys), the release boasts new emotionally powerful music from the hit songwriter.
"I found when I join God in doing work He says is important to Him, He will use us to do things we once saw as impossible," says Schultz. "This album is a reflection of my journey to embracing possibilities and I hope it encourages others of God's promise that through Him, all things are possible!"
The first radio single and the album's title-track "All Things Possible," was written by Schultz, Seth Mosley and Tony Wood. The song was inspired by Schultz's bike ride across the country in support of The James Fund where he raised over a quarter of a million dollars for the organization. During the trip, Schultz realized that when he was relying on his own strength, he was limited with what he could accomplish.
"When I started to focus on the purpose behind this bike ride, to answer God's call to us to care for widows and orphans, I saw all the amazing paths God would open up for us," recalls Schultz. "Not only did I make it across the country in His strength, we were able to raise more than we had hoped. What is impossible with man, is possible with God."
Originally hailing from Colby, KS., Mark Schultz moved to Nashville to pursue his musical ambitions and found inspiration while working as a youth pastor. Schultz booked a show at the city's famed Ryman Auditorium and with the overwhelming support of friends and family, the show was a sell-out. This virtually unheard-of feat for a new artist landed Schultz a record deal where he went on to sell over 1.3 million albums and garner 10 No. 1 singles to date. He has landed the top spot on Billboard magazine's Christian Adult Contemporary Songwriter list and has been featured on "48 Hours" and "Extreme Makeover: Home Edition." In 2011, Schultz released his first instrumental album, Renaissance and his first novella, titled "Letters From War," based on the his hit song. His 2005 release, Mark Schultz Live: A Night of Stories & Songs, was certified Platinum by the R.I.A.A. and earned Schultz his first GMA Dove Award.